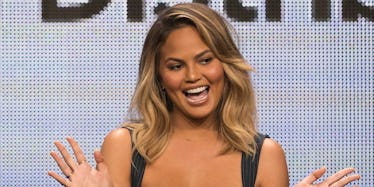 Chrissy Teigen Gets Real About Having Baby Luna In Fergie's New Music Video
REUTERS
If you've watched Fergie's "M.I.L.F. $" video by now, you've probably seen Chrissy Teigen and her 11-week-old daughter Luna Simone make their appearance together. But how did the whole thing even come about?
According to People, Teigen's brief cameo in the music video fell into her lap when Kim Kardashian sent her a text message saying,
Hey, Fergie is shooting a video. You should be in it.
To which Chrissy promptly responded,
Absolutely, Kim, what days are you shooting? I'm in.
Boom, just like that, Teigen landed herself a spot in Fergie's MILF-packed visual for her new single. No, she wasn't dancing. She wasn't singing. And she CAN'T swim (neither can John)...
*drumroll, please* ... She was breastfeeding Luna!
So, how did Baby Luna get involved in the shoot to begin with?
Chrissy, 30, spoke to People over the Fourth of July weekend in Southampton, revealing,
Obviously, Luna is in it. But they closed down the set [because] Luna was so new. She was maybe 4 weeks old. They turned off the air. They cleared people out. And it was her natural lunch time anyway.
So, it turns out Luna's surprise appearance in Fergie's "M.I.L.F. $" video wasn't premeditated after all. As a matter of fact, it was more of a spur-of-the-moment thing.
It was [like], '[Luna's] here, and it's "MILF Money" — I would love to capture this moment with her. I think it's beautiful. They were so accommodating of a newborn baby, and John was watching. Honestly, it was like 10 minutes, but it went by so fast. I loved it.
When asked about the rumors swirling regarding Kim Kardashian's part in the video being Photoshopped, Chrissy laughed,
I was with Kim in a scene, obviously. And what I realized is that I need to live in latex. Everyone is talking about how we were all Photoshopped. No, you've never seen anything like latex. What looks like denim jeans [on Kim], that's latex.
So, there you have it. Under a year old, Teigen's daughter has already landed herself in a music video. She can officially compete with North West, Blue Ivy and Blac Chyna's unborn baby for a shiny star on the Hollywood Walk of Fame.
Check out the video below for a closer look!
Citations: Chrissy Teigen on Breastfeeding Daughter Luna in Fergie's 'M.I.L.F.$.' Video: 'I Think It's Beautiful' (People)