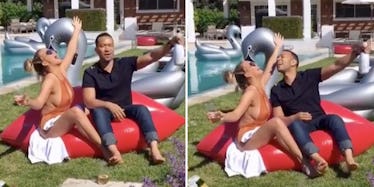 Chrissy Teigen And John Legend Had The Dreamiest Fourth Of July Party Ever
Instagram
Those of you rolling your eyes at Taylor Swift's star-studded Fourth of July pose-fest may prefer Chrissy Teigen's low-key Hamptons hang.
If neither work for you, honestly, you need to adjust your expectations. This is all I have to offer.
The "Sports Illustrated" model, host and cookbook author waded in the pool at #REVOLVEintheHamptons, a weekend retreat hosted by the e-commerce retailer.
Chrissy wrestled a hashtag raft because 2016.
She floated under the sun with husband John Legend because love.
She then took their love to dry land because drowning is no joke.
She popped champagne on the lawn because happy birthday, America.
She chilled with Emily Ratajkowski because Em's the best self-proclaimed "third wheel."
She signed copies of her cookbook, "Cravings," because Armadillo Bread.
She looked at a beautiful house because real estate is a fascinating industry that is too commonly overlooked by the general population.
Browsing Chrissy and John's Fourth of July photos won't help your FOMO, but at least you have a full calendar year to plan and fund your own sunny Hamptons mansion BBQ party.
WHAT ARE YOU WAITING FOR?