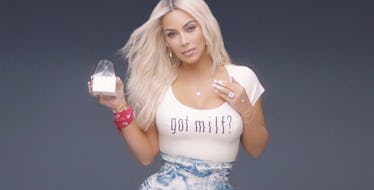 Kim Kardashian Just Spoke Out Against Those Photoshop Allegations
YouTube
Kim Kardashian basically became the hottest mother ever after being featured in Fergie's "M.I.L.F.$" music video.
The 35-year-old mom of two made a special appearance in Fergie's new video and holy hell, did she look good.
Here, turn on "M.I.L.F.$" below to really get in the mood. Fergie's officially back and better than ever. GET IT, GIRL.
So here's where things get interesting. In Fergie's new video, Kim Kardashian has a scene where she looks into the camera all sexy and wears a "got milf?" T-shirt.
YEAH, I'M TALKING ABOUT THIS ONE.
Fans on Twitter accused the "Keeping Up With The Kardashians" star of Photoshopping herself during this moment.
Her followers pointed out that her waist looked extra slim in comparison to other shots she's taken recently.
But Kim was not afraid to fire back. The reality star added a video to Snapchat with the caption "FuckYoPhotoShop #CorsetLife."
Kim has been an avid user of waist trainers and corsets, so it isn't too surprising she was wearing one during the shoot.
You can watch Kim Kardashian's full Snapchat in the video below. TAKE THAT, HATERS.
Kim Kardashian has been accused of altering her look several times before, including the most recent incident where she was called out for wearing butt pads.
The star later confirmed she was not wearing booty enhancers and her Spanx just made it seem that way.
Regardless, I think Kim looks great, especially after pushing out two babies. I don't even have kids and I look like a piece of shit, so all power to you, Kimmy.
Citations: Kim Kardashian Photoshop (Daily Mail)