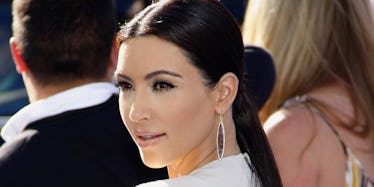 Kim Kardashian Has Something To Say About All Of That Butt Pad Hype
Shutterstock
Just when you thought we'd closed the case on Kim Kardashian's butt authenticity, skeptics have to drag up all kinds of rumors to spark yet another heated debate a-butt it. (Sorry, I had to.)
So, what's the problem this time, haters? Apparently, it all has to do with a paparazzi photo that kind-of, sort-of makes Kim K look like she's wearing butt pads. In a blog post on her subscription-only site, Kim writes,
Another day, another crazy rumor! Apparently, I was caught wearing butt pads. Here's what really happened: A couple years ago, I wore a skirt in Miami that was totally sheer. I had no idea it was SO see-through on my butt.
You can view the photo on Pinterest for context. Kim K went on to say,
I definitely never want that to happen again, so now I always wear shapewear. Sometimes, they have a sheer cutout like these capris from Body Wrap, so that's actually what you're seeing in the picture at the top.
Take a look at Figure 2, the Body Wrap capris, for your reference:
So is this just a sneaky advertisement for nude capris or is Kim Kardashian giving a pretty good explanation for her butt situation? We'll never really know, but she did have this last thing to say,
So, the fact is: I don't wear butt pads! At this point, I think everyone has seen my butt naked and knows I don't need them LOL!
LOL is right, Kim.
Citations: My Alleged Butt Pads (Kim Kardashian West)