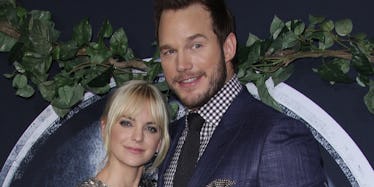 Chris Pratt Is Playing Wife Anna Faris' Love Interest On Her TV Show
REX
Ew, gross. Chris Pratt is, like, obsessed with Anna Faris.
They're married and all, but Chris is acting like a crazy stalker. He even showed up to her freaking job and tried to seduce her on camera.
No joke. The "Jurassic World" star is appearing in an episode of Anna's CBS sitcom "Mom" this upcoming season as a love interest of his wife's character, Christy.
According to EW, Chris will play a horseback riding instructor who catches Christy's eye, though she's forbidden from catchin' that D thanks to Marjorie, AKA Chris' character's aunt/America's one true cock block.
Since marrying Anna in 2009, Chris has developed a history of slinking onto her sets as if she doesn't have gd work to do.
In 2011, he appeared out of freaking nowhere in her films "What's Your Number?" and "Take Me Home Tonight."
Then, as if he hadn't already crossed the line, Chris popped up in 2013's "Movie 43," while Anna tried to stay professional and make a little money to feed and shelter their real life son, Jack.
GET YOUR OWN JOBS, CHRIS, DANG.
Chris is currently shooting sequels to "Jurassic World" and "Guardians of the Galaxy," but you don't see Anna traipsing around set, waiting for an extra to drop dead of exhaustion and free up some space on screen.
Perhaps after his film "Passengers" hits theaters, Chris will be too busy promoting it to jack his wife's steez so shamelessly. After all, he and costar Jennifer Lawrence appear to shoulder the bulk of the film's screen time between the two of them, including a sexy, sexy love scene.
Any diversion that keeps Chris from securing the rights to the "Scary Movie" franchise and remaking each film with himself as his wife is fine with her fans. Just, please, someone distract him before it's too late.
Citations: Mom exclusive: Chris Pratt to star as Anna Faris' love interest (EW)