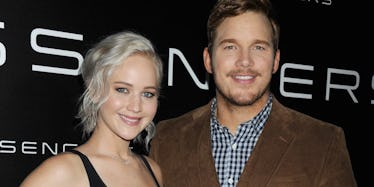 Chris Pratt Gets Super Open About Filming A Sex Scene With Jennifer Lawrence
REX/Shutterstock
Chris Pratt's reaction to being interviewed about the sex scene he shot with Jennifer Lawrence only serves to make him more dreamy, UGH.
SET MY HEART FREE, CHRIS.
In his new sci-fi film "Passengers," set to be released in December, Pratt shares a steamy love scene with co-star Jennifer Lawrence, a first for the actress.
Let us take a moment, here, to acknowledge Jennifer Lawrence's victory in building an A-list acting career, earning four Academy Award nominations and a win and starring in a series of blockbusters without shooting one single sex scene.
We all love watching two actors fake doin' it, but in an industry that routinely exploits women sexually, there's something reassuring about J Law's ability to choose when, where and with whom she'd like to take the sex scene plunge without having to sacrifice mainstream success at any prior point.
Anyway, back to Chris Pratt (who is waiting patiently to be mentioned in this post because he has top-shelf manners).
The "Guardians of the Galaxy" star, who headed to Comic-Con this week to promote the sequel, talked to E! News about the professionalism required when shooting a sex scene.
Interviewer Marc Malkin kicks off the questioning with a simple,
Jennifer Lawrence. Her first sex scene. With you!
Pratt cautiously replies, "Yes… OK…" before looking to Kurt Russell for help.
Dear papa Kurt is not super helpful, referring to the experience as "Jennifer Lawrence's first trip around the horn."
Chris stews in some mild anxiety before explaining,
You know, we're actors. It's a part of the job and… your job as a leading man is to make the actress feel comfortable and you do that by minimizing the amount of people that are there and just, you know, having a sense of whether or not they're feeling OK.
In the film, Chris and J Law respectively portray a mechanic and a writer who awaken 90 years early from a cryogenic sleep during a 120-year trip to another planet.
I KNOW, it's like, the SEXIEST PREMISE EVER.
In May, Jennifer told E! shooting the sex scene was "nerve-racking," but not due to Chris.
She shared,
It's not even about your co-star because Pratt is so wonderful and lovely. My nerves weren't about him.
Surely simulating sex in a room filled with "everyone you work with -- all of the cameramen, all the producers and the director" is enough to make the boldest among us super self-aware, but J Law is a pro with a co-star who clearly prioritizes her comfort.
Citations: Chris Pratt Talks Sex Scene With Jennifer Lawrence (E! News)