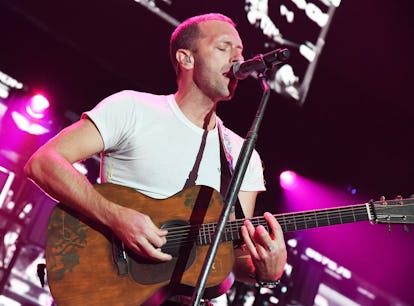 Chris Martin Got Bleeped At The iHeartRadio Awards During An Adorably Cringe Moment
Someone please explain what happened.
Jeff Kravitz/FilmMagic, Inc/Getty Images
Nobody puts Chris Martin in a corner — except for the producers of the 2021 iHeart Radio Music Awards. About an hour into Thursday night's show — just as fans reeled over The Weeknd and Ariana Grande's joint rendition of "Save Your Tears," plus Demi Lovato's fabulous cover of Elton John's "I'm Still Standing" — Coldplay frontman Martin got bleeped in front of live cameras, prompting viewers to lose it over his stupefied reaction and the fact that he was silenced in the first place.
So how did the awkward moment go down? Martin hit the stage to introduce Elton John, the recipient of the night's Icon Award. For about two minutes, he elegantly delivered a speech that highlighted all of John's accomplishments. Funnily enough, Martin first made a joke about the evening's teleprompter, saying he got into a "very difficult fist fight" with the person responsible for queuing the screen. Foreshadowing, much?
Martin continued to drop endearing (and sometimes cringe!) jokes, eventually telling the crowd John's "one of the greatest guitarists of all time" before introducing a video about the music legend's career.
While things initially went swimmingly, Martin was completely caught off guard just before John was expected to hit the stage to deliver his acceptance speech. For what felt like a lifetime, Martin was forced to keep his cool and improvise on live TV as he waited for producers to cue the proper graphics and give John enough time to walk up in front of the mic. At one point, seemingly regretting his existence, he swore, but was bleeped out by those pesky producers.
Yes, Martin was pretty startled by the flub, but as fans were quick to point out, his cool, calm, and collected demeanor only made viewers love him more. In other words: the moment immediately became fodder for so many thirst trap tweets, and theories about what, exactly, Martin said during that censored moment.
Was Martin awkward or way too adorable? You decide.