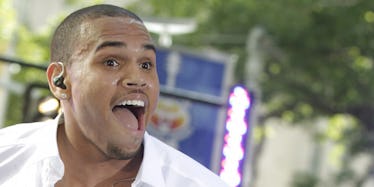 Chris Brown Attacked Kehlani On Twitter Over The Kyrie Irving Cheating Drama
REUTERS/Brendan McDermid
Not that anybody asked, but here is how *sighs* Chris Brown feels about Kehlani's attempted suicide.
Less than 24 hours after Kehlani's Instagram controversy, where she was allegedly caught cheating on Kyrie Irving with ex-boyfriend PartyNextDoor and subsequently reportedly tried committing suicide, Chris Brown decided to let us all know how HE feels about the situation.
Because, you know, when I think about literally anything to do with women, I immediately ask myself, "What does Chris Brown have to say?" *Climbs to the top of the Empire State Building and jumps off roof*
UGHHHH, OK. Let's just get this over with.
F*ck you, Chris Brown.
F*ck you, Chris Brown.
They look like they have stank sex!!!! — Chris Brown (@chrisbrown) March 30, 2016
F*ck you, Chris Brown.
F*ck you, Chris Brown.
F*ck you, Chris Brown.
He then tried to pull it all back on his Instagram.
F*ck you and your dumb Instagram, Chris Brown.
Really, Chris?!?! You're REALLY going to comment on this??!?! I wouldn't trust you to order a turkey sandwich at Denny's from a female cashier, let alone have you give your candid public thoughts about a woman in clear crisis.
Someone get Chris Brown away from Twitter... and the rest of humanity.
Citations: Chris Brown Makes Some Very Harsh Comments About Kehlani (Complex)