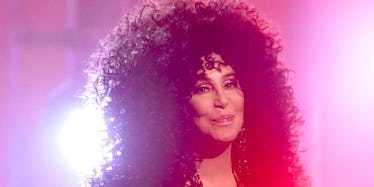 Fans Are Convinced Cher Will Be In 'AHS: Cult' & We Need It To Happen
Getty
American Horror Story may be getting one of its biggest celebrity cameos yet this season! In the past, the horror anthology series has featured iconic singers like Lady Gaga and Stevie Nicks in roles, and now fans are starting to put some pieces together that seem to point to Cher being the next legendary songstress to get her scream queen on. So is Cher in American Horror Story: Cult? Let's break down all the clues that seem to have fans convinced it's going to happen.
First of all, Cher tweeted out at the beginning of August that she had a fun surprise project coming out in the first week of September, which aligns perfectly with the premiere of American Horror Story: Cult next Tuesday on September 5. And that tweet was posted just two days after AHS released character posters announced the names of its main cast. It also came shortly after Cher's son Chaz Bono confirmed he was part of the cast of the new season (he also had a role in the show's previous season Roanoke). To top it all off, Ryan Murphy had already revealed months ago that Cult would be influenced strongly by the 2016 presidential election, with the first episode being set on the night of Donald Trump's election. Given how vocally anti-Trump Cher has been since his election, this political undercurrent would definitely fall into Cher's interests.
If all that wasn't enough, the entire AHS: Cult cast actually all went to Cher's Las Vegas show together last week, and shared a ton of pics together with the singer. Check out some of the photos below.
She sure looks like she fits in with the cast! Plus, Cher already has some personal ties with this season's cast. Not only is her son Chaz Bono part of American Horror Story: Cult, but she also has a close friendship with AHS newcomer Colton Haynes — she even helped him propose to his now-fiancé Jeff Leatham.
And some fans have even claimed to spot Cher's name on one of the chairs in behind-the-scenes photos of the AHS set. One poster on the fan forum Atrl shared a photo that may show Cher's name.
All in all, it looks like there are a lot of clues that seem to point to Cher popping up on this season of AHS. We'll have to see if she shows up in the premiere on Tuesday, Sept. 5 on FX.