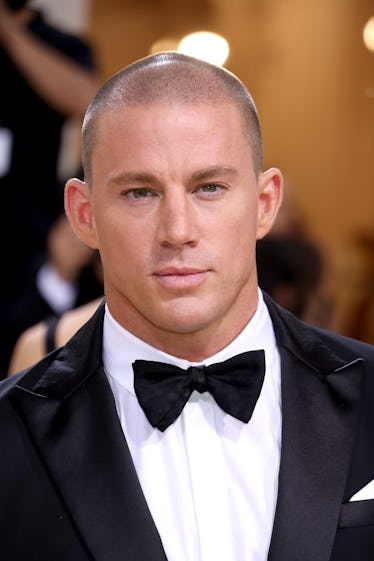 Channing Tatum's Met Gala Date Wasn't Zoë Kravitz And Twitter Had Thoughts
They've got some explaining to do.
John Shearer/WireImage/Getty Images
Ever since they were spotted on a bike ride getting extra close in New York City, Channing Tatum and Zoë Kravitz have been driving fans crazy as a serious power couple. The Pussy Island co-stars look practically perfect together, so fans are freaking out that Channing Tatum didn't arrive with Zoë Kravitz at the Met Gala. Talk about a missed opportunity, right?
The pair reportedly first started hanging out together when Kravitz cast Tatum as the star role in her movie, Pussy Island, which follows a clever L.A. cocktail waitress who has her eyes set on winning the heart of a philanthropist tech mogul played by Tatum. After making her way into his inner circle, and to his private island, she begins to realize there's more to his island than she first thought.
In a June 2012 interview with Deadline, Kravitz revealed why she chose Tatum for the role. "[He was the one] I thought of when I wrote this character," she said. "I just knew from Magic Mike and his live shows, I got the sense he's a true feminist, and I wanted to collaborate with someone who was clearly interested in exploring this subject matter."
When Tatum and Kravitz sat down to talk about the movie, the two really began to bond — and that's when the actress apparently gave him an unforgettable lesson about fashion. "When someone can just come out and tell me I should not be wearing Crocs, and is so adamant about it, she completely convinced me and I never wear Crocs anymore," Tatum said. Sounds like a serious couple to me. According to a People source, they "continue to be inseparable."
So when Tatum showed up alone wearing a gorgeous tuxedo (I mean, he's stunning in his own right) at the 2021 Met Gala on Sept. 13, fans turned to Twitter wondering, where the heck is Zoë?
Tatum might have showed up to the Met Gala alone this year, but Kravitz absolutely made a stunning solo red carpet arrival later in the evening. She wore a super sheer Saint Laurent dress bedazzled in crystals.
So what does this mean for their relationship? While it's unclear whether they hung out together inside, it certainly sounds like these two don't have bad blood between them.