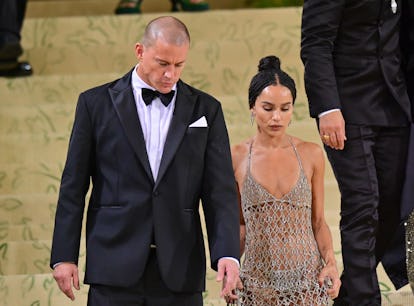 Channing Tatum Had "No Chill" When Crushing On Zoë Kravitz
He followed, like, a lot of Kravitz fan accounts.
James Devaney/GC Images/Getty Images
Channing Tatum and Zoë Kravitz tend to keep their romance private. Since getting together in the summer of 2021, the couple has kept their public outings to a minimum and rarely spoken about each other. But for Vanity Fair's February 2023 cover story, Tatum opened up about his relationship with Kravitz — particularly, that embarrassing moment when fans realized how many Kravitz fan accounts he was following on Instagram.
"I have no chill," he told Vanity Fair, recalling in August 2021 when outlets reported on his new Instagram follows (including @zkluv, @zoekravitzinc, @zoekravitzsource, and @kravitzupdate). "I was just seeing what she was up to! Also, I didn't know anyone would know."
Per Tatum, he and Kravitz first connected through their work. Specifically, Kravitz had Tatum in mind for a role in Pussy Island, a film she had co-written. "I thought it was super punk rock. She had passion in there, and she had a point of view that was really specific to who she was and what her experience was. But I wasn't sure it was clear yet, what it wanted to be," Tatum explained.
They didn't reconnect until two and a half years later, when there was a new draft of the script. "It was great. I was like, 'Wow. You are really saying something,'" Tatum said. "That's the kind of person you want to create with. That really has this perspective they're constantly digging for."
During the interview, Tatum also opened up about his more general views on love and romance. "Relationships are hard for me. Even though I am a bit of a monogamist," he said. "In business, I have no real fear of anything being destroyed. But heart things, when it comes to people I love, I have a really hard time. I end up trying too hard, you know?"
It's a mindset that he is still working on. Tatum explained, "So I can actually experience these moments, instead of just trying to change it or something, or being afraid that it's not going to work out how I wanted or something."