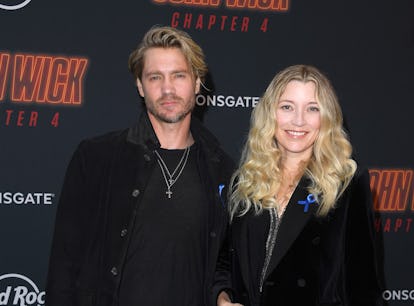 Chad Michael Murray & Sarah Roemer Welcomed Baby No. 3
"Soaking up all the baby squishy moments that go by all too fast."
Steve Granitz/FilmMagic/Getty Images
Congratulations are in order! On Aug. 20, Chad Michael Murray and his wife Sarah Roemer announced the birth of their third baby. The couple has been together for nearly a decade. After meeting on the set of Chosen in 2013, they got married in secret — only confirming that they wed and were expecting their first baby boy in January 2015. Since then, they've kept their private life under wraps — never posting their children's faces on social media or revealing their names. However, Roemer did give fans a small glimpse into their family life with her latest Instagram post, sharing the arrival of baby no. 3.
Roemer posted a photo of their baby girl — specifically, a sweet birthmark on their daughter's ankle — to share the happy update. "Our baby girl arrived last week with a heart on her ankle. We are so in love!" she wrote. "Soaking up all the baby squishy moments that go by all too fast."
Murray reposted the photo on his feed, "So blessed and feeling so very grateful. We've added to our pack with our new little girl❤️ The Odds on this as her birthmark must be 8 billion to 1 or close😂," the One Tree Hill star wrote. "Thank you all for so much love and warmth with our baby news:) Everyone's healthy and loved."
In July, Murray shared a little insight into their growing family with an IG reel. "This baby's been everywhere already and she's not even on the outside yet:)," he wrote, alongside several photos of their family's travels. "Thank you mama for carrying our pack- literally💪❤️💪Coming to an airport near you- this family of 5😳I can hear it now- 'Uhoh, here come the Murray's' 😂😂😂." The couple has two other children, an 8-year-old son and a 6-year-old daughter.
This isn't the only time Murray has gushed over Roemer — specifically celebrating the way she mothers their children. "The world has been lighter & brighter since the day you entered it. You've extended that light through our little pack. For me, growing up with single father most of my life, I never truly knew the importance of a mother until I had the honor of watching you carry this family on your back from that moment our son was born:)," he wrote in honor of Mother's Day in May 2022. "Your heart lights our world. Our babies know just how lucky they are to have you as their Mama."