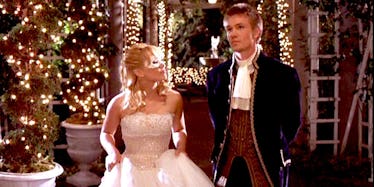 Chad Michael Murray Wore His 'A Cinderella Story' Costume To A Prom This Weekend
Warner Bros.
Thirteen years later, and Chad Michael Murray is still fit to be the Prince Charming of any prom. The actor proved he's every bit as suave as his character Austin Ames by donning his A Cinderella Story costume once again this weekend.
CMM took his wife Sarah Roemer to her first prom on Saturday, at the Children's Hospital of Orange County in California, according to Us Weekly. And Murray more than rose to the occasion by dressing up in the regal duds that he made famous in the prom scene of his 2004 rom-com A Cinderella Story.
As a reminder, here's what CMM looked like in the purple, frilly suit fit for a prince in the movie:
And here's what he looked like in the same outfit this weekend, with his wife by his side instead of Hilary Duff:
Murray also posted a video of himself in the outfit walking around the prom and thanked Warner Brothers for letting him borrow the costume for the night. He also celebrated the very impressive fact that 13 years later, it still fits him!
In case you haven't been fortunate enough to have seen the modern classic that is A Cinderella Story, Murray played the popular high school quarterback Austin Ames, who's secretly tortured over his dad's insistence that he continue athletics at USC rather than follow his dream of going to Princeton.
Under the alias "Nomad," Austin bonds with an online pen pal named "Princeton Girl," who shares his dream of going to the Ivy League School. The two eventually agree to finally meet face-to-face at the upcoming school costume dance, but Sam (Hilary Duff) wears a mask to hide her true identity. That's also the scene where Chad Michael Murray is rocking the famous prince costume.
And now Austin Ames is back and better than ever, and he gave his wife the most perfect Cinderella story.