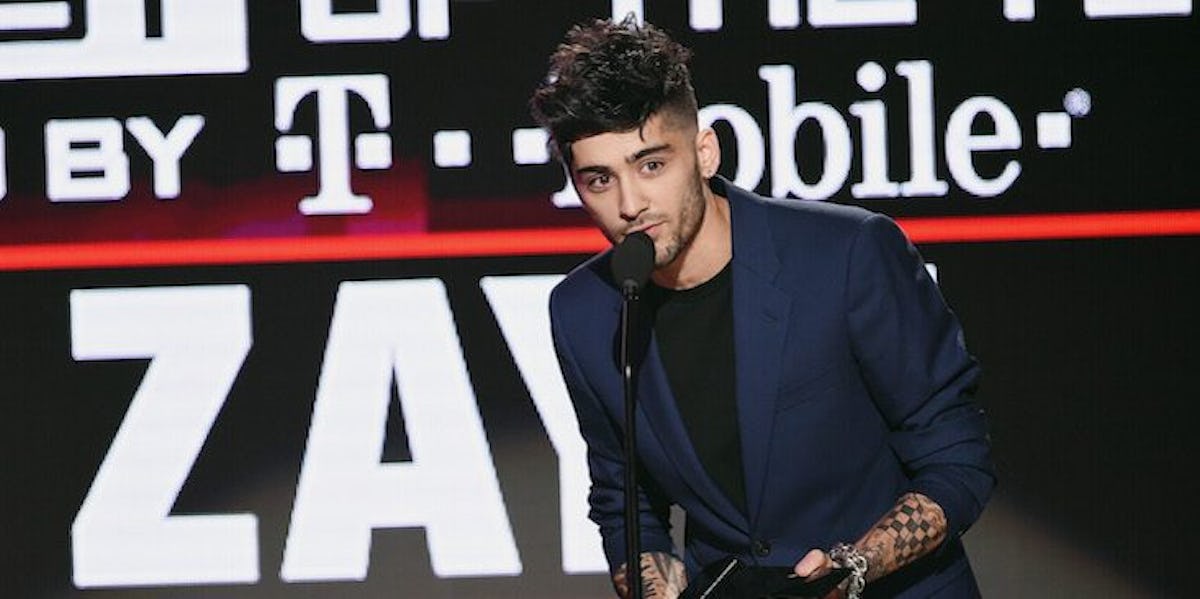 Zayn Malik Opens Up About Friendship With Louis Tomlinson & Fans Will Be Devastated
Kevin Winter/Getty Images
Zayn Malik dropped the bombshell the other day that he and Harry Styles were never really that close (Gasp. I know). In a new interview, the "Dusk Till Dawn" singer is revealing even more need-to-know info about a former One Direction bandmate and it's not great. Inquiring minds want to know: are Zayn Malik and Louis Tomlinson still friends?
Well, yes. But also... kind of? As you may recall, Malik and Tomlinson had a falling out after Zayn quit 1D and things got super shaky. Fans were pretty emotional about the idea that the two, who were so close in their 1D days, could drift so far apart.
But life goes on, the world still turns, and sometimes old relationship scars heal and former friends can put their differences behind and move forward again. After the death of Tomlinson's mom, he and Malik reconciled, with Tomlinson explaining earlier this year that his mother wanted them to put the past behind them. He told The Sun: "My mum said, 'You've got to get back in contact with Zayn. Life's too f*ck*ng short. A mother's intuition is just f*ck*ng crazy. It always felt supernatural to me. My mum always knew what I was feeling and what I wanted."
Tomlinson added, "I can't stand to hold a grudge with anyone. It doesn't sit with me right. If there is any animosity, just clear the air. I met up with him and it was nice."
Fans breathed a collective sigh of relief and all felt happier for knowing the two were back in each others' lives.
It turns out, however, that those old battle wounds may not have completely healed and, while Tomlinson and Malik are friendly again, according to Zayn, it'll never really be the same for them again.
Don't fret entirely – they haven't written each other off completely and it doesn't sound like there's any bad blood between the two, but people change and they're just not in each others' lives as much.
Malik and Tomlinson are friends, he explained to Us Weekly, but they're not as close. He told the magazine: "Yeah we spoke about that, we're in touch, everything is on a civil level," adding, "It's not the way it used to be, obviously we were a lot closer because we were together the entire time, spending 24 hours a day in the band and now we're not so we're living our own lives, we're all growing as individual men and we still keep in touch and check in with each other not as much as we used to."
Aw man, growing up is hard sometimes, but I totally understand where he's coming from. It's never going to be the same as the One Direction days for Malik and Tomlinson because they are in different places, physically, professionally, and personally. Tomlinson has a baby, both are busy with their careers, and those 1D days of being together 24/7 are a thing of the past.
Fans are shedding a few tears over Malik's interview, but are finding their way to understanding and are thankful the pair is still friendly. I miss those old Malik and Tomlinson feels though.
Malik also noted that he's totally grateful for his One Direction days, explaining to Us Weekly: "It's kind of a blur, but I've also had a bit of time to process it and take it in and understand it for what it was and appreciate a lot of the things and opportunities that we were given the chance to be able to do at that time. I just look back at it as a positive thing with good memories."
See? It's all good, you guys. Oh, and he's not writing off the idea of a One Direction reunion either, telling Us: "never say never."
Check out the entire Gen Why series and other videos on Facebook and the Bustle app across Apple TV, Roku, and Amazon Fire TV.