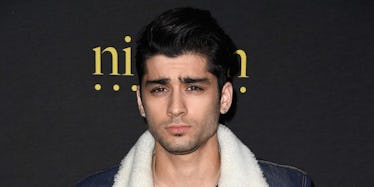 Zayn Malik Opens Up About His Anxiety & What He Does To Get Through The Day
Frazer Harrison / Getty
No one is saying that being a celebrity is easy, especially when you rise up to fame through a boy band you were sort of forced to be in from the beginning. Zayn Malik's anxiety has been something he's always struggled with, and has only recently started discussing it with the public. As the first member of One Direction to separate from the group, one might think he had a confidence level unique to the rest of the boys. In reality, he, like all of us, has just been doing the best that he can (and making a pretty snazzy solo career while he's at it).
Breaking apart from 1D back in 2015, Malik blasted into his solo adventures with his first hit, "Pillowtalk," which debuted at number one on the Billboard Hot 100 chart, an achievement that was never reached by One Direction's hits. Still, almost one year after the launch of his new career, Malik ended up canceling a show in June 2016, which he now credits to his struggles with anxiety.
Back in March of 2017, Malik opened up about his journey with Us Weekly, admitting that he battled worry and stress during his time in the band. He said,
I now have no problem with anxiety. It was something I was dealing with in the band. People saw strength in that, and they didn't seem to expect it from a guy, but they expect it from a female, which to me is crazy. We're all human. People are often afraid to admit difficulties, but I don't believe that there should be a struggle with anything that's the truth.
Now, he's speaking to the publication again on how he tackles the anxiety day-to-day. The key, he says, is to have open communication about it.
He said,
Just being straight up. Just being honest about everything, explaining what it is that makes you feel uncomfortable, what it is that you're cool with. And making sure that all of that is in order and everyone's got a clear understanding of what that is.
He continued that being forthright with his struggles has helped him feel much more understood, adding,
I feel like it was only a positive impact on everything that happened after it and people now have a better perspective on where I was coming from at the time and just an understanding that it wasn't coming from necessarily being ungrateful, shall we say, or not aware of the opportunities that were in front of me, it was just me struggling with being able to actually be there. I'm definitely glad I got that off my chest, as anybody is when you feel like you're keeping something from someone you have to speak about it and clear up the air.
Plus, there's that whole awesome support system he has in girlfriend Gigi Hadid, PLUS, his fans. For them, he is grateful.
My fans are always supportive of anything I did. They're amazing people and they're always behind me. But the crazy thing for me was, the thing people that I didn't expect to speak to me about that spoke to me about it, random people, like older people that had read the book [autobiography Zayn], and they were like 'I really respect you speaking about that, it takes a lot of strength and a lot of confidence in yourself' to be able to just be like 'this is what it is, this is how it was, this is how I'm feeling,' and that was really cool to get that reaction because I didn't necessarily do it for that reason. I just did it because I felt like I needed to do it. So when you get a nice reaction in return it's like a bonus, it's a cool feeling.
We're stoked and thankful you're feeling better, Zayn! We're here for you.