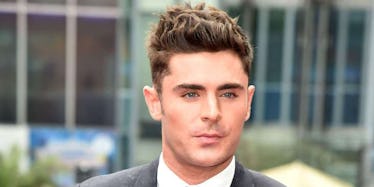 Zac Efron Dishes On What It Was Like To Kiss A Guy For The First Time
John Farr/SIPA/REX/Shutterstock
As if Zac Efron didn't already have enough to brag out, the 29-year-old A-lister can now add "made out with The Rock" to his ever-growing list of accomplishments.
Yes, you read that right. And don't ignore that sudden heat radiating from your crotch area. ZAC EFRON AND THE ROCK TOUCHED LIPS, EVERYONE.
THIS IS ~NOT A DRILL~.
While chatting with The Late Late Show host, James Corden, Efron dished on what it was like to smooch his Baywatch co-star for an underwear scene in their new movie.
Actually, Corden phrased his question as "what does The Rock taste like?" which makes Efron's couchmate, Pirates 5 star Orlando Bloom, perk up with curiosity as to what kind of answer will come out of his mouth.
A weird question, for sure, but here's a spoiler alert: He was a fan. Not to mention, it was his very first time kissing a fellow gentleman.
Let's give the guy a round of applause here, people. We've all been there.
"To be completely honest, kissing a dude is weird at first," Efron said, "But he tasted like a Winterfresh commercial."
Mmmmm. Minty.
Efron also channeled his inner Katy Perry (who, ironically enough, is Bloom's ex) and referred to The Rock's "taste" as "cherry chapstick."
It's very clear that Efron kissed a guy — and he liked it.
Efron added,
It was crazy. It was like, 'He's good at that, too?' He's just the best at everything.
The 29-year-old looked a little awkward while being pestered about his guy-on-guy experience, but that didn't stop Corden from confessing his own desire to tongue wrestle with Dwayne "The Rock" Johnson himself.
"I would give up everything in my life for one, open-mouth kiss with The Rock," Corden said. "And I say that with all humility."
It's like the guy is reading. My. Thoughts. Aloud.
Efron is known for doing just about whatever it takes in the name of entertainment (i.e peeing with a boner in That Awkward Moment and objectifying himself in Neighbors 2: Sorority Rising), so I, for one, give my full support when it comes to more kissing between him and another man.
Consider my movie ticket bought.
Citations: ZAC EFRON OPENS UP ABOUT WHAT IT WAS LIKE KISSING ANOTHER GUY FOR THE FIRST TIME (Attitude)