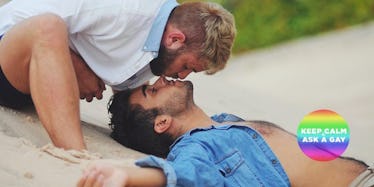 A Gay Man Explains Why Girls Can Make Out And Be 'Straight,' But Guys Can't
First, we have Janice. She's 27 years old and wants to know why there is such a stigma with straight dudes making out every once in a while.
Why is there such a double standard that straight women can make out and still be straight, but if straight guys make out, society feels they're automatically bi or gay?
I've pondered this question for a long, long time. Here's what I think.
When a girl drinks one too many Smirnoff Ice and finds her tongue interlocked with her gal pal, it's all in good fun; it's used as an exhilarating drunk story or a way to get any male viewers aroused.
Straight guys would never jeopardize their masculinity and put themselves in a scenario like that. Bros can slap each others asses during sporting events, but when it comes to rubbing stubble, that's a total no-no.
And I don't get why.
There's this stigma that if a guy makes out with another guy, they're labeled as bisexual, or they're a flaming homosexual. Some ladies won't even go near a guy if he's been around another man's mouth (or his butthole, if he swings both ways), and it's definitely a frustrating concept.
I don't think there's a solidified answer to this, as parts of society are still uneducated and stuck deep, deep in the closet themselves. But to me, don't knock it 'til you try it.
Experimentation is the fucking tits. You should be able to kiss whoever you want with no judgment whatsoever. If you're a guy, you won't be shunned for kissing another dude as long as you're comfortable with yourself.
There shouldn't be a label or negative connotation that comes with making out with someone of the same sex.
Next up, we have Paul. He's 24, gay and curious about whether or not it's weird to have a friend across the country whom he's never met.
Is it weird to have an attractive pen pal you've never met? We've talked for about a year and he seems like a dream come true but I'm not sure where it's headed.
Well, Paul. One year is a long time in the making, and I'm sure he's quite a catch.
I'm not sure how you guys found each other, but since you've been talking so long, it sounds like you have a good thing going (at least in the friend zone) that I wouldn't let go to waste.
The mention of the word "pen pal" makes me think that this is long distance, so the odds of you two ever becoming more than just buddies (even if you finally meet) is pretty slim. That could be a bummer, but it's totally OK.
From personal experience, making gay friends isn't easy. Especially since when you do find a good one, you end up hooking up with him.
Since you guys are far apart, you can make the most of the conversational aspect.
Continue to confide in one another as you would any other friendship. Excited about something in your life? Shoot him a text. Having a terrible day at work? You know who to talk to.
You may not see each other face-to-face, but that bond can still continue to grow from miles away.
There's nothing wrong with having a pen pal, especially in the gay community. And who knows — maybe some day, one of you will put your air miles to good use and he'll be everything you expected (and then some).
Patience, my friend.