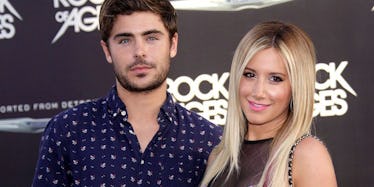 Ashley Tisdale Wished Zac Efron A Happy Birthday With Sweetest 'HSM' Throwback
REX/Shutterstock
UMMM, so can someone please explain to me how "High School Musical" came out 10 years ago?
I'm only 22, but feeling old AF right now.
However, then I remember that I know every single "HSM" song by heart and the dance, and everything is right in the world.
And remember how Troy goes to UC Berkley just to be closer to Gabriella who's going to Stanford?
... And I can't even get a text back. OK.
But I'd be lying if I didn't say I secretly always wanted Troy and Sharpay to end up together. What can I say? I'm a big fan of plot twists!
Co-stars Ashley Tisdale and Zac Efron have always been good friends, though. And because today's his birthday, Ashley tweeted the cutest picture of them ever.
"You will always be the Troy to my Sharpay?" *MELTS*
She also calls him "brother," but we all remember the time they made out for that one episode of "The Suite Life of Zack and Cody."
That episode made my pre-pubescent dreams come true.
But Tisdale isn't the only "HSM" star that wished Zac a happy birthday. Monique Coleman, who played Taylor McKessie, also had something sweet to say.
Vanessa, where ya at?
Although none of the guys said anything to the "Neighbors 2" actor, they did hang out a couple of weeks ago.
Tisdale seems to be the one closest to all of them, always being featured in her co-stars' Instagram photos. I guess she's not picking sides for this battle.
Last January, she had an interview with Entertainment Tonight and disclosed,
I just love that we all still love each other and love hanging out with each other and have that connection, you know? It was a really special moment in our lives.
It was a special moment in all of our lives too, Sharpay. And now I'm all emotional again.