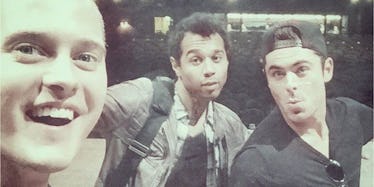 Zac Efron's Mini 'High School Musical' Reunion With The Wildcats Is Epic
Instagram
Does anyone know what the hell Corbin Bleu has been up to these days? It looks like Zac Efron certainly does.
The 28-year-old actor took to Instagram to show off exactly what his Wildcat teammate has been up to in life after "High School Musical."
Efron, who played the role of Troy Bolton, was hanging out with Lucas Grabeel, who played the role of Ryan Evans in the "HSM" series.
Efron and Grabeel made sure to pay Corbin Bleu a visit while he performed in a musical in New York City called "Holiday Inn, The New Irving Berlin Musical."
Do you know what this even means? No? OK, I'll tell you what it means...
It means Troy, Ryan and Chad had a mini "High School Musical" reunion RIGHT under our noses and didn't think we would find out.
OK, maybe they did.
After all, both Zac Efron and Lucas Grabeel were generous enough to share their low-key reunion at Corbin's show with fans on Instagram.
Zac posted a photo with the caption reading,
@mrgrabeel and I saw@corbinbleu DANCE on AIR ala Fred Astaire last night. He tapped "Firecracker" and lit the stage on fire with his moves! Check out #HolidayInnMusical#amazingshow #theboysareback
Here's the post. Diehard HSM fans, rejoice!
I'm sure they had plenty to catch up over, you know, like the fact that 27-year-old Corbin Bleu is now married.
The mini-reunion even got some separate Instagram love from Lucas Grabeel who posted his own celebratory photo. The caption read,
Just a couple of wildcats on a#Broadway stage. @corbinbleu killed it last night in #HollidayInnMusical! @ZacEfron So much love for these guys.
Behold, the closest we'll ever get to a "High School Musical" reunion (for now)...
Could these Wildcats be hinting at an official reunion somewhere down the line or are they actually just supporting Corbin's new show? A reunion is not impossible, and I'm sure the "HSM" lovers out there would happily pay to make it happen...
For now, fans will just have to cherish these 'grams!