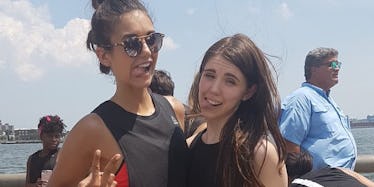 I Worked Out With Nina Dobrev For A Day And It Royally Kicked My Ass
Julia Guerra
Have you ever worked out on the hottest day of the year decked out in designer athletic apparel with a famous actress and a few of her BFFs? Well, I have. I had the opportunity work out with Nina Dobrev, the new face of Les Mills x Reebok, to celebrate her ambassador status with a few of her closest friends and an intimate group of roughly 50 health-and-wellness gurus.
The day's itinerary included fitness, fun, and a ton of sweat with back-to-back Les Mills workouts.
To preface, I'm a (self-proclaimed) athlete, so I won't lie -- I was feeling a little cocky going into this.
A little yoga here, a little bit of weight training there -- how hard could it be? (LOL, RIP my entire body.)
We were each gifted not one, but two complete workout ensembles, courtesy of the new Les Mills x Reebok capsule collection, to accommodate the all-too necessary wardrobe change we'd be looking for post-brunch.
And, honestly, that should have been my first hint.
Once dressed and ready to go, we made our way to the William Vale Hotel rooftop to kickstart the day with a round of BodyFlow.
BodyFlow is a combination of yoga, pilates, and tai chi. It's part mental, all physical and, depending on the instructor, can last anywhere from 30 to 55 minutes.
The class started off with gentle stretches to wake up the body before working through a series of sequences that required both strength and stability (cue me wobbling to one side, then the other).
To finish off, the instructors gave us the choice between sitting cross-legged or lying sprawled out on our backs to reflect on the practice.
According to Les Mills's description of the class, BodyFlow, like yoga, focuses on the importance of breath so that, by the end of the practice, you feel a sense of calm.
Despite temperatures creeping up to an ungodly 90 degrees by 11 a.m., I was feeling surprisingly refreshed once we had completed the session.
Thankfully, there were bottles on bottles of water at our disposal, as well as spray-on sunscreen to combat potential burns.
Post-BodyFlow, we were brought inside for a fuel-good brunch, which was sponsored by Sakara Life founders Danielle DuBoise and Whitney Tingle and showcased a delicious spread of Greek yogurt, dark chocolate granola, bagels, lox, and scrambled eggs, among other deliciously nourishing options.
While we all inhaled our food, Nina gave us a run-down on her own workout routines and her involvement with Les Mills.
She explains,
I like high-intensity workouts. I like to do all kinds of crazy things, and it seemed like that's exactly what Les Mills is. It's everything. They have a combat class, they have the BodyFlow, which we all did today. Grit is later this afternoon, which is going to kick yall's asses. It's really, really intense, but that's what kicks you into gear, and that's what makes you ripped. It got me into killer shape. I love Les Mills, and I love the shape I'm in now.
On that motivational note, I was about ready to get back out and get even more active.
Workout number two took us all on a boat, and it was just as awesome as it sounds.
The fact that I can say I worked out with Nina Dobrev for a day is a pretty epic statement as it is.
Being able to say I worked out with Nina Dobrev on a custom-made boat while cruising the Hudson River? Now that is boss.
Before loading on to the barge, I had the chance to briefly chat with Nina about the high-intensity interval training (HIIT) I was about to endure.
"[Les Mills Grit] is what you'll want to do if you want to define everything," Dobrev tells Elite Daily, noting her personal weekly exercise routine features two Les Mills workouts with trainer Lissa Bankston.
The entire HIIT session lasted for roughly 30 minutes and involved equipment such as a barbell, step, and weight plate.
Each move was synchronized with pump-up music (think dance club) that helped to keep you motivated, especially during those faint moments of weakness when your mind begs "no" but your body wants to keep going.
I eventually found myself pounding through some donkey kicks, barbell squats, and push-ups. To say the least, there was a lot of jumping around which, if you weren't used to that level of intensity, was difficult at times.
Despite the intense moves and the sweltering heat, the encouragement we all got from Dobrev and the trainers kept us going.
Working out with the former Vampire Diaries star for a day yanked me out of my comfort zone, pushed my body to its limit in the best way possible, and left me with both incredible memories and a newfound motivation for exercise.
In a press release for the event, Dobrev shared a piece of her fitness wisdom:
Working out helps me maintain balance and really lets me relax and recharge. I'll get together with friends and hit a class. You can't beat working out as a group -- you push each other to go further, and there's a real sense of empowerment that makes you feel part of a community.
There you have it, ladies. There truly is power in numbers, so the next time you're feeling extra low on adrenaline, round up a few of your closest girlfriends and get active!
Do it for your health, but also for the Insta-worthy memories, because duh.