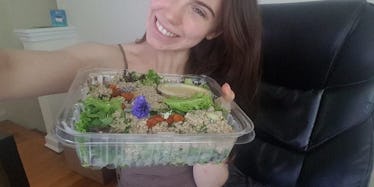 5 Changes I Saw In My Body After Eating Plant-Based Meals For Just One Week
Julia Guerra
I've thought about switching to a plant-based diet for quite a while now.
The overall benefits of eating these whole foods are nearly impossible to deny, and plus, the plated pics I see all over my Insta feed have an undeniable aesthetic appeal to them.
I first learned about Sakara Life's plant-based food program when Cosmopolitan beauty director Carly Cardellino challenged herself to live like Victoria's Secret Model Lily Aldridge for a week.
She described the food as flavorful, explaining it made her feel really good to know she was eating healthy during each and every meal.
Fast-forward two years later, and I came across the organic service once again on Instagram, my thumb rolling back to the photo almost instantaneously.
I had a feeling my time had come to try out the program myself and see what I'd been missing out on.
Whitney Tingle and Danielle Duboise, co-founders of Sakara Life, tell Elite Daily their program is all about creating "meals that empower you to be your best, most authentic self."
Food is the foundation for success, abundance, and happiness in all areas of your life — from your career to your relationships to your ability to create!
The program is committed to the nine pillars of nutrition, designing each meal as 100 percent plant-based so your body can enjoy the many benefits fresh produce can provide, such as "lowering disease-causing inflammation, balancing hormones, boosting your sex drive, improvement in auto-immune symptoms and fertility problems, better sleep, more energy, and clearer skin."
Though I've recently dabbled in a vegan or plant-based diet, I have yet to make the wholehearted switch.
But, for one work week, I put Sakara Life's meal program to the test to see how both my body and my mind might change in the process.
Day 1 - So Full, So Fast
My first breakfast of the experiment was a raw almond cacao tart with Manuka honey and cashew creme.
I can honestly say I've never experienced a foodgasm quite like this one before -- the sweetness felt almost sinful in its nature.
Tingle and Duboise explain the magic to Elite Daily,
Our breakfasts may seem like treats, but they're made with nutrient-dense ingredients like flax, quinoa, coconut oil, buckwheat, steel-cut oats, fresh fruit, nuts, and seeds, so they're packed with protein, healthy fats, and other nutrients to keep you satisfied without weighing you down.
Mission accomplished, ladies.
Lunch included a seven-layer bowl with Jamaican jerk sauce -- a combination of flavors I wasn't all too crazy about, TBH.
In the spirit of the experiment, however, I did eat the entire bowl bottomless, and it kept me full until dinnertime.
I'm rarely full by the end of the day, and I almost always resort to grazing.
I've heard that plant-based diets are pretty voluminous to ensure optimal nutrition and, judging by my first go-around, I can attest to that.
Dinner was a simple, maple sweet potato bowl with spicy chickpeas.
I loved the white sweet potatoes (my favorite starch), and I honestly wished there had been more in the dish.
The spicy chickpea mixture definitely had a kick, but I got so full so fast, and only ended up eating about half of the meal.
Day 2 - All The Energy
Living with IBS, it's not uncommon for me to wake up with a stomach ache from whatever I'd eaten the day before, but Tuesday was pain-free, and I felt energized to do a yoga sequence in addition to some weight training.
Breakfast was a winner: a naturally sweet, sun-kissed berry crumble with oats and a combination of summer fruits. It didn't fill me as much as the almond tart, but as far as my taste buds were concerned, it was absolutely satisfying.
Tuesday's lunch was a step up from the day before, with a Middle Eastern bowl full of goodies and a preserved lemon hummus that was dense, but didn't sit uncomfortably in my stomach.
I actually ended up eating an hour earlier than usual because I wasn't completely full from breakfast, so the rest of the day was a bit offset.
Dinner was simply fantastic.
I ate the entire plate full of green goddess lasagna and spinach salad, and even found myself wishing there had been a second helping to pick on.
I went to bed feeling slightly hungrier than I had the day before.
Day 3 - Clearing Out My Mind
While family members and friends reached out with questions about the mysterious blue liquid I was pouring into my muesli on Wednesday, I had zero hesitations to consume every last bit of the "Majik Mylk."
Paired with a superseed mixture, I was surprised at just how full it kept me until lunchtime (normally a bowl of cereal barely passes as a snack in my book).
Lunch served up a golden berry couscous with fresh herbs.
All elements separately were light, but put together, the leafy salad was quite filling.
Wednesday's dinner, which happened to be full of probiotics, was my absolute favorite.
The earth's harvest bowl featured a slew of sauerkraut which, combined with the brand's signature detox water I sipped until bedtime, got my bowels up and moving in the best way possible.
Hitting the midway point of the experiment, I also noticed my performance at work was improving drastically. I was handing in assignments before their deadlines, and I was grasping the concept of complex articles much more quickly than usual.
Overall, my brain felt remarkably less foggy, and a lot more functional.
Day 4 - Quick To Recover
As a direct result of chronic IBS, I have an extremely sensitive stomach. So, while yours might be fit to chug a chlorophyll-packed detox water with little repercussions, this green-tinted agua did a serious number on me.
Needless to say, I waited a little later to have breakfast that morning, but what a delicious indulgence it turned out to be when I got around to it.
The small piece of banana protein bread coated with macerated berries was basically like a piece of really healthy, but still really delicious cake.
I'm all for avocado everything, so I was really excited to see a half hanging out in the corner of my earth bowl for lunch.
Yay for healthy fats!
Thursday's dinner was my least favorite of the trial. I'm not a huge fan of a lot of coconut-flavored foods, so this was definitely a matter of preference.
However, I did notice a difference in just how fast my body was able to recover after that morning's episode. Normally, an hour or so in the bathroom will have me down for the count for the remainder of the day, but by lunchtime, my body was happy and hungry.
It all has to do with a healthy gut -- aka a well-nourished microbiome, otherwise known as the trillions of bacteria inside your body:
Since a healthy gut microbiome is the key to total-body wellness, the Sakara Life nutrition program is specifically designed to encourage gut health by providing your microbes with the nourishment they need to thrive, while starving the pathogenic bacteria (like candida) that feed on processed junk and sugar.
Day 5 - Clear Skin
I'm off from work on Fridays, so this is usually my day to be out of the apartment to get sh*t done.
Translation: I need fuel if I'm going to be out and about for hours at a time.
Breakfast was a plate of peach pancakes with blackberries, and I swear the combination tasted like cookies.
No syrup necessary; each bite was sweeter than the last.
By the time I got home, I had my monthly visitor from good ol' mother nature. This wasn't a surprise, but the fact that my skin had remained clear was a shock to me.
Normally, I break out like an angsty tween in puberty the week before, all the way through my period, and while I definitely had a few red splotches prior to this experiment, my skin was crystal clear by Friday afternoon.
I'll take that.
Lunch gave Panera's half-and-half special a run for its money, with a bowl full of sweet pea soup, and this dainty carrot tea sandwich had me craving a cozy fall afternoon in this summer heat.
Dinner was the complete opposite. This rainbow wrap was all summer, featuring carrots, lentils, avocado, and more (the first recipe, I think, that would actually be easy to replicate sans instructions).
Some Final Thoughts
Personally, I love fruits and vegetables, so I found each Sakara Life meal to be an adventure for my taste buds.
However, I probably wouldn't recommend this program to the pickiest of eaters.
There are a lot of quirky combinations that require an open mind, but aside from all of the internal and external health benefits the program provides, it definitely goes to show plant-based diets are hardly limited.
There are so many benefits to a plant-based diet, and some maybe you won't believe until you experience them yourself.
As a result of my five-day program, in addition to my own research, I've decided to move forward with a plant-based lifestyle to optimize my health.
Believe me, I'm not saying you need to go home today and swear off all meat products -- what you eat is your prerogative.
But when you eat better, you feel better, and you owe it to your body to at least give these options a try.