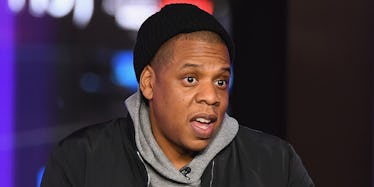 Here's Why JAY-Z Wasn't Nominated For A VMA, If You Were Wondering
Dave Kotinsky/Getty
After Beyoncé blew their marriage wide open with her 2015 masterpiece Lemonade, we've all been patiently awaiting her husband, JAY-Z's reply. It came this year in the form of his own album, 4:44, and it might just be one of music's most profitable and critically-acclaimed apologies. So why wasn't 4:44 nominated for a VMA?
It certainly isn't for a lack of success on any of the usual metrics. The 10-track album went platinum within a week and received universally positive reviews followed by an effortless debut at number one on the Billboard charts, the 14th time this has happened for the artist. If you're thinking that sounds like a record, you're not far off. Only the Beatles have him beat there, with 19 number ones, but JAY-Z is young yet, and certainly has an eye on their throne.
So with all that success, why didn't he get that Moon Person nod? It's an annoyingly simple answer: He missed the cutoff date.
*sad trombone noise* Whomp. Whomp. Whomp.
Yes, sadly for Hova, the eligibility dates for this year's VMA's were June 25, 2016 – June 23, 2017. Jay's latest LP was released on June 30, making him potentially eligible to be nominated for a 2018 VMA, but out of luck when it comes to this year's prizes.
It's the same reason we always see last year's hits nominated in place of today's faves at these shows. 2016 smash hits like Zayn and Taylor Swifts "I Don't Wanna Live Forever" and D.R.A.M ft. Lil Yachty's "Broccoli" are up for Best Collaboration and Best Hip Hop, respectively, while current chart toppers like Selena Gomez's "Fetish" and Demi Lovato's "Sorry Not Sorry" are both missing out on a chance to snag that Best Pop honor for missing the cutoff date by just a hair.
We all remember that Nicki Minaj-Taylor Swift feud at the 2015 VMA's, right? Well, it all started with this tweet where Minaj questions if maybe missing the elusive cutoff date was to blame for the people's Video Of The Year, "Anaconda," being snubbed of the industry's recognition.
It turns out it wasn't the cutoff date that was to blame for Minaj's misfortune, just some routine award show favoritism.
Lucky for JAY-Z, Gomez, and Lovato, their fruit will be ripe for the picking when next year's nominations roll around, and Jay might just be counting his lucky stars for that. Despite the innovative vision he's showing in the videos he's made so for this album, including the avante garde clip show that accompanies the title track and the full on all-black "Friends" remake for the song "Moonlight," there's no way he could've avoided getting crushed by Kendrick Lamar's HUMBLE, which earned a whopping seven noms, if he were up against him at this year's awards.
But even without Hova's presence, the show promises to be entertaining. With a freshly-rebranded Katy Perry at the helm as host and VMA pot-stirring vet Miley Cyrus slated to perform, it's safe to say that we can expect the unexpected when the show airs Sunday, August 27.