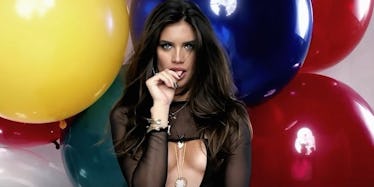 Victoria's Secret Model Frees The Nipple In Latest Love Magazine Video
YouTube
Love magazine continued their 2016 Advent Calendar — aka 25-models-pretending-they're-about-to-come-while-making-vague-pop-culture-references — with a video featuring Victoria's Secret model Sara Sampaio.
SarBear wiggled around in a mesh leotard in a clip directed by Hype Williams, the man behind Kendall Jenner's December 5 video.
The model did some pro hair-touching and hip-writhing to Calvin Harris' "This Is What You Came For," a classic sign Christmas is right around the corner.
Who could forget growing up hearing tale of the Baby Jesus asleep on a manger of old McDonalds Play Place balloons while the Virgin Mary oiled up and shook down in front of a giant fan?
Jerusalem was truly Lit AF that fateful night.
Truth be told, Sara is WAY better at modeling than Mary ever was. In August, she told Net-A-Porter's The Edit,
People need to realize that models get [professional] hair and makeup, incredible lighting, and we know how to pose. I've been doing this job for almost 10 years so I know how my body looks good from different angles… When I started modeling I didn't know anything about fashion, but I'd watched the Victoria's Secret Show – it was so spectacular and the women were so beautiful, it was something I wished I could do one day. Now it's the highlight of my year, but I never realized it would be so much work and how tough it is to stay in your best shape. It's not as glam as it looks!
Neither is riding a donkey into town and pooping out the Son of God while a bunch of horses watch, but we all have our thing.
Sara's addition to the calendar ranks her among fellow holiday posers Kim Kardashian West, Stella Maxwell, Bella Hadid, Irina Shayk, Ireland Baldwin, Rita Ora, Doutzen Kroes, Heidi Klum, Barbara Palvin, Emily Ratajkowski, Abbey Clancey and, of course, ol' Kenny.
Classic Christmas magic.
Citations: Body poppin'! Stunning Sara Sampaio provocatively dances in barely-there sheer swimsuit as she makes seriously sexy LOVE advent calendar debut Read more: http://www.dailymail.co.uk/tvshowbiz/article-4027996/Sara-Sampaio-dances-barely-sheer-swimsuit-LOVE-calendar.html#ixzz4SjyYO8Oo Follow us: @MailOnline on Twitter | DailyMail on Facebook (Daily Mail)