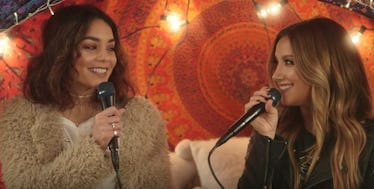 Vanessa Hudgens And Ashley Tisdale Channel Their Inner Wildcats At Lakers Game
YouTube
Isn't it the best when on-screen enemies are real-life best friends?
Former Wildcats and "High School Musical" co-stars Ashley Tisdale and Vanessa Hudgens have been friends for over a decade --  yes, "High School Musical" is turning 11 years old this week -- and every time they reunite the world becomes nostalgic.
Goofing off courtside at the most recent LA Lakers game, Sharpay and Gabriella made a big comeback and were seen dancing to a tune that had all "High School Musical" fans yelling, "Get your head in the game!"
Lol, probably not, but I needed that pun.
Considering the Lakers are on a five-game losing streak, the stars were probably just trying to keep themselves entertained.
Hudgens brought her younger sister, Stella, along, making the event one big happy family reunion.
Where were Zac Efron, Corbin Bleu or Ashley's on-screen brother, Lucas Grabeel?
Oh, that's right, they're living their own lives.
Anyway, they have never been shy about their off-screen connection. Tisdale called Hudgens her "very best friend" in their first ever duet that debuted on  Tisdale's YouTube channel.
In the episode of "Music Sessions" posted just over a week ago, the two can be seen singing a delicate acoustic rendition of Elle King's "Ex's & Oh's," arranged by Tisdale's husband, Christopher French.
The consensus in the YouTube comments was they need to do more videos like this.
But both of them have full-time careers, and probably can't just sit around barefoot, under a bunch of taped-together Urban Outfitters tapestries, singing songs made by other people – sorry, everyone.
In fact, the next time we see Hudgens it will probably be as Emily Locke on NBC's new show "Powerless," which is described as a "workplace comedy in the DC universe."
Tisdale's next project is voicing Cinderella in an animated movie called "Charming," which is about a prince, played by Wilmer Valderrama, who compulsively proposes to women.
The IMDB description has it listed as a musical, so perhaps there will be more of Tisdale's singing voice in our future.
It's a wonder Hudgens and Tisdale still have time for each other, but as the saying goes, you make time for the people who matter.
Citations: Vanessa Hudgens and Ashley Tisdale Have a Very 'High School Musical' Reunion (Teen Vogue)