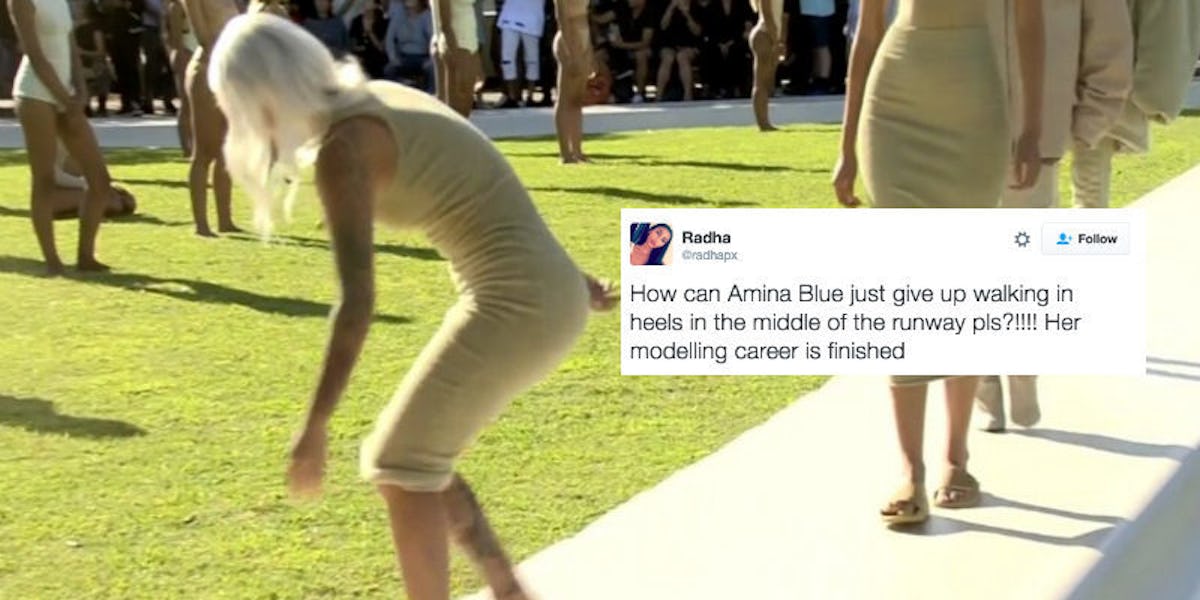 Tyga's Ex-Fling Ditched Her Heels On Yeezy's Runway And Twitter Lost It
Twitter
A model would swiftly be fired for ripping off her heels in the middle of a walk. Her career would probably end shortly after that.
But Amina Blue, a 23-year-old model, also happens to be Kanye West's muse. On top of that, it is rumored she hooked up with Kylie Jenner's boyfriend, Tyga, when they were on a break.
She was even in his very problematic music video for "1 of 1."
While this may have affected how his sister-in-law feels about Yeezy Season 4, he didn't hesitate in casting her. Who knows how he reacted when she pulled this stunt though.
At the runway show, which was held at the abandoned Smallpox Hospital on Roosevelt Island, Amina tried to stop and remove her heels, but she ended up tripping and ripping them off.
Immediately, Twitter blew up.
Some believe this is the end of her career entirely.
She's being written off as just another Instagram model.
Others couldn't comprehend her inability to walk in such short heels.
She doesn't have the credentials to pull of that move.
At least she is escaping the Illuminati?
Being a model is probably really hard, but step one is walking.
Get out of there girl, you in danger!