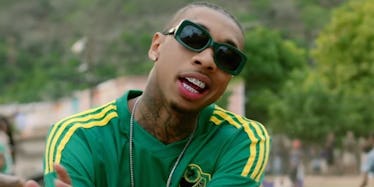 Tyga Is Getting Absolutely Slammed Over The Model Featured In His New Video
YouTube
Uh oh. Tyga is in hot water for the "1 of 1" music video he released over the weekend.
The 26-year-old rapper is receiving criticism for starring model Amina Blue as his leading lady in the video.
Yes, he didn't pick Kylie Jenner. No, that's not the reason people are pissed.
You see, Blue is German-Pakistani. The five-minute vid was shot in Kingston, Jamaica, so rather than casting a local woman from the area, Blue was chosen for the part.
To make matters worse, Blue is wearing the African hairstyle Bantu knots, which are typically worn by black women.
People on Twitter are calling out Tyga for the cultural appropriation.
Fans were even more furious Jamaican women appeared in the video, but only in the background.
Here are some of the shots this user is referencing.
Tyga has not yet commented on the backlash he's received, but you can watch his full music video for "1 of 1" below to judge for yourself.
Citations: Tyga Music Video Appropriation (Cosmopolitan)