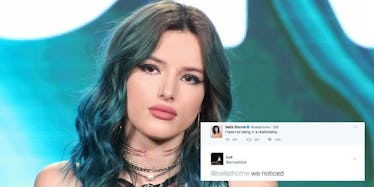 Twitter Is Roasting Bella Thorne Over This Tweet About Wanting A Relationship
REX/Shutterstock, Twitter
Oh, Bella. Bella, Bella, Bella... you really walked right into this one, didn't you?
If you were to ask someone what Bella Thorne is famous for, a handful of people might bring up her Disney Channel show "Shake It Up," or maybe some people saw one of her teen movies, but I'm pretty sure the overwhelming response would be that she's become a tabloid fixture due to her seemingly never-ending string of high-profile romances.
I mean, she's been rumored to be one half of eight celebrity couples just since 2015 — that's literally a new guy (or girl) for each season. That's why Twitter was so taken aback when Bella tweeted the obvious on Monday, posting that she "hate[s] not being in a relationship."
Of course, this launched about a million "Yeah, duh!" responses from everyone who's been following the constantly changing, impossible-to-keep-up-with saga that is Bella Thorne's love life.
Yeah, Bella. We already know you hate not being in a relationship. Isn't that why you're in a new one, like, every month?
In case you haven't been able to keep up, Bella was first dating within the Disney Channel stables during her time on "Shake It Up," having short relationships with stars like Jake T. Austin and Cody Simpson back in the early 2010s.
But it wasn't until just last year that things started getting really wild in Bella Thorne's love life, as she started going through teen heartthrobs like they were nothing.
She started 2016 out with Gregg Sulkin, and when Bella came out as bisexual after their breakup, rumors started flying that she was in a relationship with her model bestie, Bella Pendergast.
Then she started seeing "Teen Wolf" star Tyler Posey for a while, but that went up in smoke after rumors that Bella was cheating on him with singer Charlie Puth. She was then rumored to be hooking up problematic YouTuber Sam Pepper, and most recently was linked to NBA star Chandler Parsons.
Last time we checked, Bella and Chandler were still going strong, but I guess we can assume by this tweet that Bella is single again.
Although, I'm sure we all know by now that she won't be single for long.