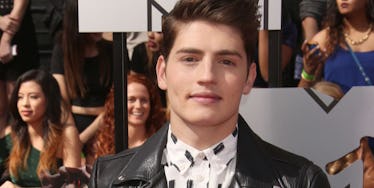 Bella Thorne's Ex Gregg Sulkin Compared His Workouts To 9/11 Efforts
REX/Shutterstock
"Never forget." -- Gregg Sulkin reminding himself to stretch before his workouts.
Unfortunately, once you put something up on the internet, it tends to stay there.
You can delete your tweets, erase your Instagram captions and even record stuff on Snapchat so that it automatically gets deleted after a day.
It does not matter. Your internet footprint is permanent and if you don't believe me, you can ask Anthony Weiner, Justin Bieber or literally anybody who has run for office over the past few years.
Bella Thorne's ex and Disney Channel B-lister Gregg Sulkin is the latest celeb (and I use the term celeb VERY generously here as I've Googled him and still only about 80 percent know who he is) to learn the hard way that words typed online are harder to erase than permanent marker on khaki pants.
(Mom, I'm really sorry. I know these are new pants.)
Gregg tweeted and then deleted this miserable gem that was luckily screen-grabbed by one of his followers.
Oh man, oh man. You will never be happier that screen grab technology exists than you are right now.
Before we go any further, I'm just going to drop this lil' nugget here with zero commentary.
OK, are we done enjoying those three tweets? Great.
GREGG!!!! WHAT ARE YOU DOING, BUDDY?!?!?!?!?! YOU... YOU CAN'T SAY STUFF LIKE THAT, GREGGY!
I mean, 9/11 *sighs because I can't believe I'm saying this* was like WAYYYYY worse than most workouts.
Like, 1,000 soul cycle classes is not even close to how bad *sighs again because this is the dumbest sentence* 9/11 was.
The rest of the internet was rightfully "DAFUQ"-ed up about his tweet.
It's almost as if the entire web threw up their hands in unison.
In Gregg's defense, he DID try tweeting this before people got angry with him.
That doesn't really make things better though.