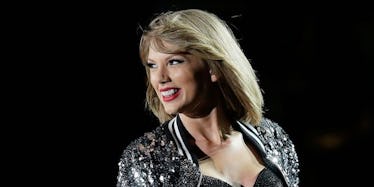 The Best Twitter Reactions To Taylor Swift's Mysterious Snake Instagram
Mark Metcalfe/Getty Images
Everyone, stay calm! It's happening! Taylor Swift, who deleted all forms of social media on Friday, Aug. 18, returned on Monday, Aug. 21 with a mysterious video. The video seems to show a snake's tail moving up and down. Is it just me or is this thing scaly? Maybe she's pranking us all and it's just a shoutout to Daenerys' dragons on Game of Thrones? Is the snake shedding its skin? Anyways, fans have no clue what to think about it. What does it mean? Here are the best tweet reactions to Taylor Swift's snake Instagram.
Also, Monday Aug. 21 is conveniently the same day as the total solar eclipse. Some fans think the star may be dropping a new album and this is her first hint. Others think that the video must be a clue that she's performing at the 2017 VMAs, which air live on Sunday, Aug. 27. Katy Perry is hosting and performing, so if this is the case, get ready for an insane show.
Swift has been staying out of the spotlight for what feels like years, so she must be gearing up for one huge comeback. There was even a theory that Swift was avoiding paparazzi outside her NYC apartment by hiding in a huge suitcase. It ended up not being true, but a girl can dream. How amazing would that be?
Is this the beginning of Taylor Swift back in the spotlight? Fans seem to think so, and they took to Twitter to show just how excited they are about it.
Here's Swift's original video:
And here's her fandom collectively losing it:
TAYLOR, WHAT ARE YOU TRYING TO TELL US?!
Let's hope Swift continues to bless us all with more content so we can figure out what the heck is happening, and let's all pray her next album drops real soon.