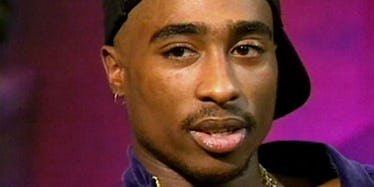 Tupac's Letter To Groupie Is Up For Auction: 'Ever Been Tied To A Bedpost?'
REX/Shutterstock
Legendary rapper and actor Tupac Shakur has been gone for 20 years now (or so we've been told), but that doesn't mean his star power still isn't bright.
Case and point: He appeared at Coachella in 2012 in hologram form.
His "Hail Mary" lyrics appeared at Christmastime in a church.
And now, the original sext (AKA a hand written letter) by the man himself is being auctioned off -- and it is dirrrty.
In 1995, Tupac was incarcerated for nine months for sexually abusing a fan, which he had always denied doing.
He said he was hurt "a woman would accuse me of taking something from her" and said he was raised and surrounded by women.
During his time in prison, the rapper wrote correspondence in response to a "passionate letter" he received from a fan.
The letter, which is now up for auction for $25,000, was obtained by TMZ.
It reads:
I hope u didn't think [I] forgot that passionate letter u sent me… Here's my reply. U ever been tied up & blindfolded, stripped naked & washed from head to toe in a bubble bath? Ever been oiled down & massaged to the sounds of slow sensual music? Ever been tied to a bedpost and licked like a lollipop? Ever been fucked so hard by a n**** that u get to shaking and quivering? Ever had the taste sucked from your mouth taken thru 12 positions of lovemaking so thoroughly that you are too tired to shower or get dressed? Ever been touched with the masculine hands of a n***** with nothing 2 lose? Do u know what a n***** could do with a cucumber, some baby oil and a full pack of condoms? Ever suck a n***** while he pulled softly on your hair? Ever had a n**** slide his manhood through the middle of your beautiful breasts? Ever C what a n***** could do with a tray of ice and some honey? Ever been fucked by me? Until the end of time.
Just what CAN a person do with a CUCUMBER, BABY OIL AND A PACK OF CONDOMS?!
This is a question I never, ever want to know the answer to...
And 12 positions of love making? God, I don't have all night.
Citations: Tupac Wrote A Groupie A Very Sexual Letter From Prison That Is Currently Being Auctioned For A Lot Of Money (Bro Bible)