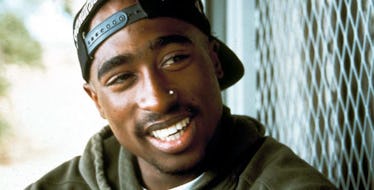 Church Accidentally Prints Lyrics To Tupac's 'Hail Mary' For Christmas Service
REX
Christmas mistakes happen.
Santa got caught kissing Mommy underneath the mistletoe, the other reindeer were total dicks when they told Rudolph he couldn't play with them, Grandma got run over by a reindeer and the dude in "Baby, It's Cold Outside" never fully grasped the whole "no means no" thing.
While those mistakes all resulted in fantastic holiday songs, this story does not have such a sparkling ending.
This year, someone accidentally printed out the lyrics to Tupac Shakur's song "Hail Mary," instead of the Christmas carol with the same name, for a caroling service in Colombo, Sri Lanka.
The lyrics were printed on over 1,000 flyers for the Catholic 2016 Joy to the World Festival, which, according to DailyMail.com, is one of the largest caroling services in the country.
Whoops.
While rosy-cheeked carolers (I picture all carolers to have rosy cheeks) were expecting to find the wholesome lyrics to the traditional Catholic prayer, they were met with Tupac's less-than-wholesome lyrics about gang violence, drugs and sex.
Highlight lyrics include:
I ain't a killer but don't push me, revenge is like the sweetest joy Next to gettin' pussy, picture paragraphs unloaded Wise words bein' quoted, peeped the weakness in the rap game And sewed it, bow down, pray to God hoping that he's listenin' Seein' niggas comin' for me, to my diamonds, when they glistenin'
While Tupac is revered as the most legendary rapper, I'm fairly sure this isn't the Christmas-friendly song elves sing while working in Santa's workshop.
It's certainly a far cry from the Christmas-time "Hail Mary." Carolers were expecting to open their pamphlets to find:
Hail Mary, full of grace, the Lord is with thee; blessed art thou amongst women, and blessed is the fruit of thy womb, Jesus. Holy Mary, Mother of God, pray for us sinners now and at the hour of our death. Amen.
So very close, and yet so, so very far.
Citations: Christmas carol festival accidentally prints the lyrics of rapper Tupac's hit 'Hail Mary' instead of traditional Catholic prayer on thousands of flyers (DailyMail.com)