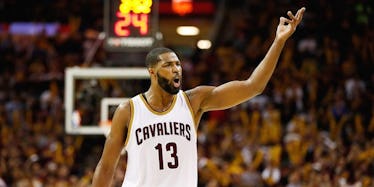 Here's Everything We Know About Tristan Thompson's Love Life Before Khloé Kardashian
Gregory Shamus/Getty Images
With all the buzz that Khloé Kardashian is reportedly pregnant, comes so many questions. Details, the people want all the details. Among the many questions swirling is who has Tristan Thompson dated before Khloé Kardashian? Turns out, it's a super short list.
Thompson, if you're not familiar, hails from Canada, but was drafted by the Cleveland Cavaliers in 2011 while he was studying at the University of Texas. Kardashian sure likes herself a sporty guy, no doubt about it. If you recall, Kardashian was married to basketball player Lamar Odom and dated James Harden in the past.
Thompson and Kardashian have been together for over a year, making their first appearance together in September 2016 before taking a weekend vacation together. A source told People at the time: "Khloé and Tristan have been seeing each other for a little bit. He's a really nice, good guy, and she seems very happy with him."
Since that time, their relationship has only solidified, with Kardashian dishing all about it in a Late Late Show appearance earlier this year. Host James Corden noted at the time: "I feel like I'm spotting something different about you — this time you might be glowing... You seem like you might be somebody who may have found love recently?"
Kardashian responded: "I have!," adding, "I am, I'm very happy. It's going good. We use the L word!"
In April, Kardashian dished to ES Magazine about how she would say yes if Thompson proposed and how a family was definitely in her future:
I would love to have a family. We've talked about it. He [already] is a father, and I know for a fact that he would be an impeccable father. I definitely want to be a mom. But I don't put the pressure on it. It's not like, 'The clock is ticking.' I feel in my soul it will happen.
Before dating Kardashian, Thompson was in a long-term relationship with model Jordan Craig. He and Craig welcomed a son, Prince Oliver, in December 2016. Thompson reportedly left his pregnant girlfriend to date Kardashian, though no details of Thompson and Craig ending their relationship seem to exist.
In July, Kardashian and Thompson appeared to take their relationship to the next level, as they were reportedly house hunting, with a source telling People: "They live at Khloe's Calabasas house right now. He thinks the drive from Calabasas to L.A. is too far every day. When they go out in L.A., they want a second house that's closer."
Marriage, it seems, may not be in the couple's too-near future, as Kardashian told YOU magazine recently that while things are going well, marriage isn't a goal right now:
I'm in the best relationship I've ever been in and it doesn't take a ring for me to feel that way. I believe in marriage and I want to be married again one day but I don't have a time frame. Why do people think that marriage equates to happiness? There are a lot of people in unhealthy marriages.
Kardashian also shared how she and Tristan have "the same belief system and morals," explaining: "Tristan and I are both Christians; we go to church, we pray, we're vocal about God and spirituality. A lot of my girlfriends get pregnant without talking about things such as religion with their significant others and then find they have different belief systems to them."
As for her thoughts on children, Kardashian told the magazine that Thompson "definitely wants more children, but we both feel that it will happen when the time is right." She added, "We're still in a new relationship and I love us having time together. Once you have kids you can't get back your non-kid years."
Check out the entire Gen Why series and other videos on Facebook and the Bustle app across Apple TV, Roku, and Amazon Fire TV.