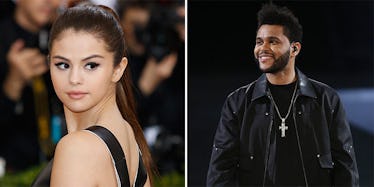 The Weeknd Gets Real About His Sex Appeal After Making Out With Selena Gomez
REUTERS/REX/Shutterstock
On Wednesday, The Weeknd and Selena Gomez came scary close to breaking the internet after pictures of them kissing surfaced online.
The pair was reportedly caught making out Tuesday night outside Giorgio Baldi in Santa Monica, and they looked extremely hot and heavy!
As it turns out, The Weeknd just can't get out of the public eye right now.
The 26-year-old rapper is featured on the cover of the February issue of GQ, and in his interview with the fashion and style magazine, he opened up about his love life, his sex appeal and a whole lot more.
The normally reserved entertainer said,
I don't think that's real. Listen, I'm not walkin' around like fuckin' Idris Elba, know what I mean? … I'm not gonna walk into the club and be like, 'Oh shit I'm the sexiest guy in here.' The reason why they want to fuck with me is because of what I do [in the studio]. So I'd rather just focus on doing that.
Can't argue with that, right?
The Weeknd broke up with model Bella Hadid just a few months ago, but that clearly hasn't stopped him from making quick moves.
However, it doesn't appear he's looking to tie the knot any time soon.
Speaking about marriage, he said,
I feel like I'm the kind of guy that would have kids before getting married. The first thing would be kids. Marriage is scary to me, man.
Who knew?
If you think this dude is promiscuous now, well, you have no idea about his apparently checkered past.
Speaking on how he's changed, The Weeknd said,
Right now, I'm much more, like, self-regulating than I was four years ago, when I first started getting everything and enjoying life. I don't focus on it as much as I used to. You know what I mean? Before it's like, 'Holy fuckk -- this is amazing.' Right now, it's like a good song turns me on way more. Like, that gets me horny, like, literally gets me horny.
Interesting.
Speaking about his recent album, Starboy, The Weeknd said,
I worked really hard on this album [Starboy]. And I felt like I need to relieve a lot of stress. [Cutting off my hair] feels good, 'cause I get to blend in. If I want to go to a club, I can just go and I'm not there. I can go to a restaurant and I'm not there. I look like everybody else, which is boring, but maybe I just want to look like everybody else for a bit.
I really, really hope Selena Gomez and The Weeknd work out.
Citations: The Weeknd Opens Up About Marriage, His Sex Appeal As Selena Gomez Kissing Pics Emerge (Entertainment Tonight)