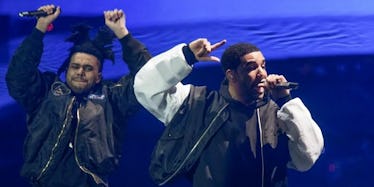 The Weeknd Celebrates His Birthday By Dropping A New Video With Drake
REX/Shutterstock
The hits just keep on coming for The Weeknd.
Wednesday, The Weeknd dissed the crap out of Selena Gomez's ex, Justin Bieber, on the new NAV track, "Some Way."
On the track, The Weeknd sings,
I got some bars for a nigga if he wanna see Dress up your talk if a nigga wanna talk to me Fuck your phone calls, I don't want apologies Everyone said, yeah they said I was gonna peak Most number ones, number ones in a nigga league I think your girl, think your girl, fell in love with me She say my fuck and my tongue game a remedy. Oh yeah, yeah, I just hit a lick and I know you feelin' some way (nah, nah nah nah, nah nah nah) I just took that chick, and I know you feelin' some way, oh yeah She just want a nigga like me, you feelin' some way, way, way, yeah She just want a nigga like me, I play no-
Straight savage.
The Weeknd ended Justin Bieber's life in one verse bruh — Hammed (@H_Papii) February 15, 2017
Thursday, The Weeknd followed that up by dropping a brand new music video for the track "Reminder" off his Starboy album.
The video features appearances by Drake, ASAP Rocky, French Montana, YG and more, and as you're about to see, it's lit AF!
Yeah, this video is awesome, of course, but what makes this drop even cooler is the fact The Weeknd put it out to celebrate his 27th birthday.
I'm 27 years old, but I don't have any music videos to date. Hell, I don't even have a professional photo of myself anywhere.
Can you just imagine the birthday bash Selena Gomez is going to throw The Weeknd?
I'm trying to imagine who's going to be there, what it's going to look like and how many bottles they're going to kill.
Sigh. I guess we'll just have to wait and see the photos on Instagram.
Citations: The Weeknd Grabs Drake, ASAP Rocky, and More for "Reminder" Video (Complex)