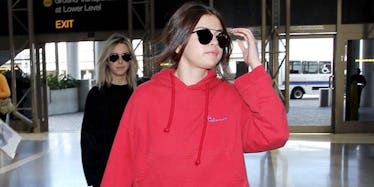 The Weeknd Calls Out Selena Gomez For Stealing His Sweater In Relatable Comment
REX/Shutterstock
Wow, guys, are you dating? We couldn't tell. No one could tell. You're not, like, obvious about it or anything. So, no one could tell.
JK, you are up each other's butts in a very public way, Selena Gomez and The Weeknd. Your happiness is aggressive, but love is love and the world needs more of that, so carry on.
Earlier this weekend, Selena Gomez posted a photo to Instagram that, at first glance, appeared like a very casual, poorly lit pic of three friends hanging in the studio.
In it, she sits beside Julia Michaels and Justin Tranter wearing a cozy Supreme x Champion hoodie.
BUT THERE'S SO MUCH MORE AT PLAY HERE.
Below the photo, Selena's new man, The Weeknd, commented, "Sweater [eye roll emoji]," suggesting she stole her boyfriend's oversized hoodie and was caught in the act.
At the risk of being the hater who's like, "We get it, already, you guys are in love, barf," it's like, we get it, already, you guys are in love. Barf.
Everyone knows, though, that love doesn't count unless the world is aware it's occurring, yes? Slowly but surely, these two are making their passion apparent with a borrowed hoodie here, a paparazzi pic there and a Bieber diss everywhere.
NAV recently dropped the video for "Some Way ft. The Weeknd," in which Selena's new boo raps,
I think your girl, think your girl, fell in love with me / She say my fuck, and my tongue game a remedy.
He also insists he "got some bars for a nigga if he wanna see," so feel free to jump in there, Justin. Don't be shy. Just jump right in and have the sexy falsetto sing-off the world is waiting to see.
I'm not saying these two owe us that, but we've patiently watched both of them lose their shit over Selena Gomez for years. Maybe it's time to give back.