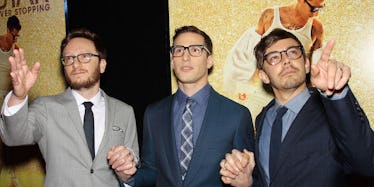 The Lonely Island Singlehandedly Defined This Generation Of Comedy
REX/SHUTTERSTOCK
On August 18, 1978, the world changed for the better. Andy Samberg presumably burst through his mother with a floppy afro-like mop of hair, and the future comedian of a generation was born.
In honor of his 38th birthday, I decided to profess my love and appreciation for his work in the least creepy-outwardly-stalkery way possible: writing an ode to The Lonely Island on the internet in the mere hopes these words reach their eyeballs and they swell with soft tears, again, in the least creepy-outwardly-stalkery way possible.
Let's take a journey.
It all started with The Three Stooges. 
Larry, Curly and Moe introduced the world to a joint comedy routine that combined different personalities, rapid humor and a sense of togetherness never seen before.
We've seen the "Three Amigos," the three stars of "Old School," "Superbad," "The Hangover" and "Workaholics" and the dynamics they've shared on and off screen. There's something special about a comedic trio, but there is no group quite as special as the three members of The Lonely Island.
Andy Samberg, Jorma Taccone and Akiva Schaffer are the comedians of this generation. 
For 15 years, the trio has entertained audiences with far-from-subtle humor through incredibly well-written songs, sketches and routines. 
With a focus on the modern world of sex, drugs and raunchy penis-infused humor, TLI has given the Millennial generation a parodied time capsule of the early 2000s. 
Their work speaks to the inner teenage boy in all of us (even as a 23-year-old female, I can attest to this) through outrageous humor and unparalleled wit.
The following is what I like to call "Three Boys Getting Their Start In The World Of Comedy In A Way That Seems Relatable But You're Probably Not That Funny And Will Never Be That Successful: A Brief History."
Samberg, Taccone and Schaffer met in junior high and regrouped after college in Los Angeles where they gave birth to their official trio, The Lonely Island. The group is named after the small, low-rent apartment they shared, something struggling Millennials of today can easily relate to (shout out to my bedroom, The Island Of Dust Bunnies I Overpay For). 
Struggling to find work, they began to make short films on the internet — keep in mind, this was 2001, and YouTube didn't come out until 2005.
With absurdist comedy and some musical work, the TLI boys worked their way to writing for the 2005 MTV Movie Awards hosted by Jimmy Fallon.
Fallon, who started on "Saturday Night Live" in 1998, was impressed with their work and recommended them to "SNL" creator Lorne Michaels.
That year, The Lonely Island was hired to write for the show and Andy Samberg became a featured actor. In the first three months of writing, Schaffer and Taccone only had two sketches that made it through to the live episodes, so they decided to take a different route.
As opposed to writing live sketches, they switched to producing filmed sketches. This became their goldmine.
Their first sketch, "The Bing Bong Brothers," a parody of the Ying Yang Twins, became a viral sensation. The Lonely Island, as any young, excitable and passionate group of writers would, took the positive responses and ran with it.
Soon after came "Lazy Sunday," a short frap (fake rap) that put the group on the map (rhyme INTENDED). 
The video was recorded on a laptop, and the trio was shocked when, the day of a live show, Michaels announced it would be shown to the world. Then, much like Cronuts, they became an overnight sensation.
During their time on "SNL," The Lonely Island brought us Digital Shorts that became the soundtrack to our pre-pubescent/pubescent/post-pubescent years. Everything they did just made sense.
I don't believe any of you who say you didn't yell, "I'M ON A BOAT," every time you even saw a boat from a distance between 2009-20014.
Are there people out there who had sex for the first time after 2011 who didn't immediately start singing "I Just Had Sex"? You're all a bunch of losers, but there's something about Akon's voice that delicately validated your loss of innocence.
Over 100 Digital Shorts later, The Lonely Island gave fans a full list of songs that accomplished something I'm sure Taylor Swift dreams of: a whole lotta dick jokes.
Earlier this summer, The Lonely Island premiered their movie, "Popstar: Never Stop Never Stopping," which I saw thrice in theaters. Thrice.
First of all, if you haven't seen it yet, I don't know why not considering you've already read over 700 words about this trio. But you're in luck because it came out on iTunes on August 16. So download it now.
While their humor may be niche, it's the type of specific humor that speaks so profoundly to those who "just get it."
Three friends who dedicated their lives to parody humor is something to celebrate and honor.
Happy birthday, Andy. And happy day, Jorma and Akiva.
Please never stop never stopping.