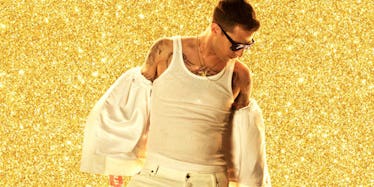 The Lonely Island's New Movie 'Popstar' Actually Made Me A Justin Bieber Fan
Universal Pictures
It's been a minute since Andy Samberg, Jorma Taccone and Akiva Schaffer showed up on our TV screens singing a song so clever and catchy you couldn't help but hum the wildly inappropriate lyrics at work the next day.
"Motherlover" has definitely gotten me in trouble in professional settings.
Now, The Lonely Island is back with their first original feature film, "Popstar: Never Stop Never Stopping." (Devoted fans know their 2007 film "Hot Rod" was originally a Will Ferrell script, later reworked by them.)
"Popstar" is everything you'd ever expect from a Lonely Island feature film: songs with beats way too bangin' to be so hilarious, clever social commentary with just the right amount of preachiness and lots and lots of cameos from A-list celebs.
Seriously, there are so many cameos in this movie. The first five minutes alone feature everyone from DJ Khaled to Ringo Starr.
The mockumentary-style film parodies real-life pop star documentaries along the lines of Justin Bieber's "Never Say Never," as the title alludes to, or One Direction's "This Is Us."
Yet beneath the thousands of jokes is a sincere message to Justin Bieber and every pop star in the industry today: We feel ya, man.
Conner4Real, played by Samberg, is a pop singer at the height of his solo career.
He's got millions of fans thanks to his overwhelming social media presence. He's got a small army of people hired to keep his life as excessive and glamorous as humanly possible.
And channeling the spirit of "Zoolander" or "This Is Spinal Tap," he's also a total idiot.
Conner's career began with his buddies Owen and Lawrence and their boy band, The Style Boyz. When The Style Boyz (think Beastie Boys, but sillier) break up, Conner goes solo, Owen (Taccone) becomes Conner's DJ and Lawrence (Schaffer) becomes a farmer.
Turns out, Conner's a horrible musician when he works on his own, his second album tanks, he makes a lot of mistakes that make the whole world hate him and he quits the music business altogether.
Don't worry, in the end, he learns the value of collaboration and friendship and rejoins his band. But it's his downfall that came first that interested me the most.
At a press conference I attended last week, Samberg described Conner4Real's character as "an amalgam of everything that's going on in the world of pop music."
Yet when the trailer for the film was released, many -- including me -- thought Conner was just a straight-up Justin Bieber parody. Samberg acknowledged given the film's title, he saw where that interpretation came from. He said,
There's a couple of direct references, obviously, to his documentary, because we just felt like they were funny jumping off points for a crazier joke. And the title of the movie obviously feels kind of like his title, which makes it seems like it's a lot more about him than we intended.
Intentional or not, I still couldn't help thinking of Bieber while I was watching Conner's rise and fall from popularity in this alternate reality.
Maybe it was because I've been forced to reconcile with his presence more and more this year, my first year working in media. Or, maybe it was because the sheer hatred of the backlash Conner faces at his lowest point reminded me so much of the comments I read about Bieber every day.
I haven't seen Bieber's documentary. I can probably name as many Bieber songs as your mom can. I have nothing against his music but based on everything I've heard about him and his behavior, I've always found him hard to sympathize with.
In fact — and I hate to admit this — while I would never write them myself, I often secretly agreed with hateful comments I read wishing for Bieber's swift and painful demise. Career-wise, that is, not like, murder-wise. I'm not that awful.
Conner too, has many deplorable qualities. Like Bieber, he seems to have little to no sense of self-awareness. His inflated ego extends far beyond his mediocre talent. At one point, he takes a sh*t in the Anne Frank house, a step above merely calling her a Belieber.
Yet as I watched Conner4Real spiral into depression after his album dropped off the charts, his fans turned on him and he essentially became the most hated man in America, I felt no satisfaction. I barely even felt any amusement. I just felt sad.
It's not just Samberg's natural charm that he brought to the role, either -- though he is as charismatic as ever.
Conner is dumb, but he's genuine. He shares everything with his fans on social media to the point of insanity — like Snapchatting after masturbating — but it's weirdly endearing. He's willing to give everything he has for his career, and there's something likable about that.
He tries to give his fans exactly what they want. He's not a good musician, but he tries hard to be one anyway. And eventually, he tries to be a good friend, too. I've always been a sucker for people who try.
Now, I hardly think Justin Bieber is as innocent and genuine as Conner4Real. But the thing is, Justin Bieber is trying. This much is obvious from every poorly written Instagram confession I've ever read from the Biebs. Do I think this means he should be allowed to do whatever he wants? Of course not.
But do I want to watch him and his career fall apart? Also, of course not. This is something I should have already felt just from being a compassionate human being in general, but it took watching Conner's descent for me to realize it fully.
"Popstar" gets surprisingly dark when it comes to Conner's depression. Like many real-life pop stars before him, he spends his dark days in a drunken haze.
It's kind of played off as a joke, but also kind of not. The audience is well aware they are watching something all too real when Conner wakes up alone on the floor covered in his own urine.
The film seems to say to the audience,
This is not pretty, and it's not even that funny. You shouldn't wish this on anyone. Not even Justin Bieber.
That's not an easy feat to achieve in a 90-minute comedy with an entire scene devoted to a man rubbing his bare penis against a limousine window.
So if you're headed into "Popstar" looking for a viciously satisfying Bieber takedown, you're probably going to be disappointed.
But if you're looking to empathize with your fellow complex human beings and have a sh*t-ton of fun along the way, you're in luck.
The Lonely Island boys are back, and they totally nailed that empathy thing.
"Popstar: Never Stop Never Stopping" opens in theaters everywhere Friday June 3.