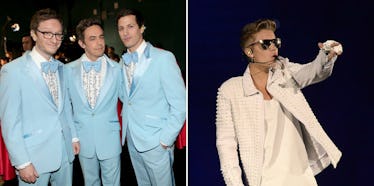 Justin Bieber, Have You Seen The New Lonely Island Movie Poster?
Getty Images
It's nice to know we can still count on The Lonely Island to come through and make fun of the people who most deserve it.
This time, the honor goes to birthday boy Justin Bieber. Only 19 minutes into the Biebs' birthday on Tuesday morning, The Lonely Island revealed the name of their upcoming film via Twitter: "Popstar: Never Stop Never Stopping."
Remind you of anyone???
I can't stop laughing at this. Even the outfit is totally a nod to the Biebs.
The movie is a musical parody that follows Conner4real (Andy Samberg), a failing rapper who is forced to reunite with his boy band (presumably the other members of The Lonely Island, Akiva Schaffer and Jorma Taccone) after his latest album flops. The film is set to release June 3.
Andy Samberg spoke to Jimmy Kimmel on Monday about the new movie.
I'm still laughing. "Popstar: Never Stop Never Stopping." Oh man. Too good.
Happy Birthday, Justin!!! Love, Andy, Akiva and Jorma.
@justinbieber Never Say Never forever pic.twitter.com/pmcOj4EJCT — KIDRAUHL (@Pascaciomariana) February 19, 2016
Citations: Here Are the Lonely Island Movie Title and Poster You've Been Waiting For (Vulture)