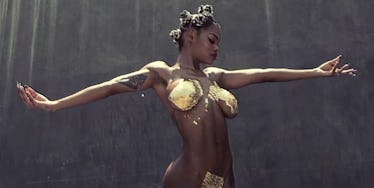 Teyana Taylor Stripped Completely Naked For The Most Seductive Photoshoot
YouTube
If you haven't heard of Teyana Taylor, where've you been at my dude?
She literally appeared in every headline after Kanye West's music video for "Fade" hit the Internet. Like, how are you going to forget this?
But now Teyana has recently bared all for her new Paper magazine shoot.
The 25-year-old mother said that her choice to wear revealing clothing (or nothing at all) is a statement about being a powerful woman.
Teyana told Paper magazine that appearing in Kanye West's music video, where she performed a "Flashdance"-inspired routine in a sports bra and thong, was a celebration of what women can do.
It's something she feels passionately about, especially considering she's raising her 9-month-old daughter Junie to be a strong and intelligent woman.
She told the magazine,
I honestly don't feel like 'Fade' would have had the same effect had I just been 21, hot body, single. It was more than just dancing in a sports bra and a thong. You can be superwoman. You can have it all, that balance in your relationship, your family and your career. It's the opposite of the cliché that says kids will slow you or your career down.
In fact, being a mom helped Teyana book the gig. Kanye West chose her because she is a working mom, like his wife Kim Kardashian.
It's also why he included Iman Shumpert, Teyana's partner and member of the Cleveland Cavaliers, and her baby in the video as well.
Teyana said of West,
He was like, 'It's so dope because y'all so young and y'all fresh, but then y'all got the baby and the championship.' I think that gave him the idea of wanting to see us all in the video together.
Junie even appeared in the Paper magazine shoot as well.
Citations: TEYANA TAYLOR CAN HAVE IT ALL (Paper Magazine)