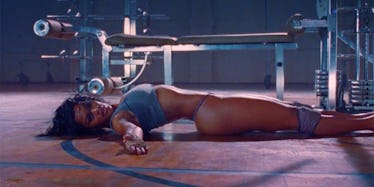 Teyana Taylor Announced A Fitness Program So We Can All Have A Body Like Hers
Oil the fuck up, hotties.
It's been two long months since Teyana Taylor's body gave us a collective aneurism during the premiere of Kanye West's "Fade" video at the VMAs and, lucky for us, she's ready to share her fitness secrets.
"But Taylor," you might say, "my lumpy ass is permanently molded into the shape of the desk chair I live in from 9 to 5 every day."
Same, Lump-Ass, very much same.
Look, though, at Teyana Taylor. If only for a moment, behold the glory that threatens to burn straight through our optic nerves and blind us irreparably.
No amount of squats or sit-ups or [third exercise, if there even is one] may ever get us quite this toned, but Teyana's willing to at least help us try.
The choreographer posted a video on Instagram announcing the upcoming release of "Fade 2 Fit," a dance-based workout program that helped Teyana get back into the shape of an actual ancient Spartan after giving birth to her daughter less than a year ago.
Teyana kindly reminded followers "the new year is AROUND THE CORNER" and, as we already know deep down, it'll be easier to start 2017 with a rock hard butt/sense of athletic accomplishment than it will be to try and catch up after the holidays.
This is our chance to know what it feels like to have muscles in all the crazy places we never thought muscles could exist: our necks, our feet, our lower backs, under our boobs or whatever.
The possibilities are probably not endless, per se, just based on biology, but they're still extensive.
Interested parties can pre-register for the program via email at Fade2Fit.com.
I already did it. I already registered, covered my beautiful, lumpy, square-assed body in butter and found a sad gray thong to pay homage to the queen of seemingly unattainable fitness goals.
Rock your butt cheeks if you're with me.
Amen.
Citations: THE TEYANA TAYLOR WORKOUT WE'VE ALL BEEN WAITING FOR IS FINALLY HERE (Harpers Bazaar)