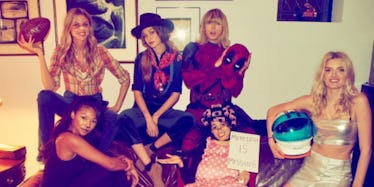 Taylor Swift Was Ryan Reynolds For Halloween And Blake Lively Couldn't Even
Taylor Swift
It's safe to say Blake Lively and Ryan Reynolds are one of the most adorable celebrity couples in existence, and it's possible Taylor Swift wants to be all up in that. (I mean, who wouldn't?)
The "Shake It Off" singer dressed up as Deadpool, a character Ryan Reynolds played in a movie of the same name, for Halloween this year.
Taylor didn't just pick up a generic Deadpool costume, either. It seems Ryan himself hooked her up with an ACTUAL costume from set.
So yeah. She basically went as Ryan Reynolds.
The 26-year-old captioned one of three Instagram photos,
Thanks @vancityreynolds for this costume, you're the BEST deadpool inside contact ever.
Yup. No other Deadpool costume could have been as badass as hers this year.
As usual, Taylor was completely isolated on Halloween night and only uploaded selfies of herself hanging out alone with no one else around.
No, I'm kidding. She always rolls deep.
She actually dedicated not one, but two Instagram photos to showing off her squad's solid Halloween costumes.
I don't get FOMO easily, but her squad shots always give me a little twinge.
I feel the same way about Taylor's squad as she does about Ryan and Blake's relationship. Sigh.
OK, but wait, we haven't talked about the best part of this "Deadpool" Taylor Swift situation.
Blake Lively saw these photos and couldn't resist making this hilarious comment.
Funny, Blake, but let's be real. You're already married to Ryan Reynolds. How can you really top that?!
This isn't the first time this weird little friendship triangle expressed their love for each other on social media.
Last week, Ryan posted a sweet photo of himself and Blake at his birthday dinner, which made Taylor "[drown] in tears of joy."
But can you blame her?! I'm telling you. If there was an award for the cutest celebrity couple, they'd win for sure.
Citations: Taylor Swift's Deadpool Costume from Ryan Reynolds Leaves Blake Lively Wanting a '#HusbandUpgrade' (PEOPLE)