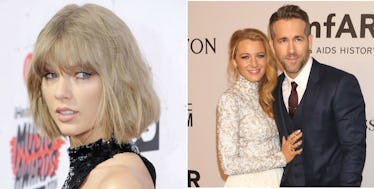 Taylor Swift Really Wants A Blake Lively And Ryan Reynolds Kinda Love
Rex/ Shutterstock
If Blake Lively and Ryan Reynolds keep being cute AF together, they're going to end up becoming the inspiration behind Taylor Swift's next hit song.
The "Blank Space" singer recently admitted to feeling super emotional after Ryan Reynolds posted a photo of his "best birthday ever" on Instagram Tuesday night.
His caption was dedicated to his angelic wife and mother of his children, 29-year-old Blake Lively. She shared a sappy photo of his romantic birthday dinner a few hours earlier that day, and now we're certain true love exists.
According to US Weekly, Taylor Swift commented on Reynolds' Instagram post and admitted her uncontrollable feelings about the love they share. She allegedly wrote,
Thanks guys. Now I'm drowning in tears of joy.
YOU AND ME BOTH, TAY.
It's fine, though. We'll all find our own Ryan Reynolds soon enough (pray for us).
If you're curious to see the post that sent the singer into hysterics, we've got it for you. Just make sure there are a few tissues around.
Reynolds captioned the photo,
Best. Birthday. Everrrrr. Courtesy of my wife, buddy, and international spy, @blakelively. With huge thanks to my favorite restaurant in NYC,@_o_ya_ -- and a special shout out to our children for not ruining everything like they planned.
UGH.
Look at those cute little bunny noses! I have no clue why they're wearing them, but I'm totally obsessed.
They lovebirds reportedly spent Ryan's 40th birthday evening at O Ya, a contemporary Japanese restaurant in New York City.
I'm surprised Taylor wasn't invited, but it's probably for the better. I'm not sure if she'd be emotionally stable enough to handle the utter perfection of Blake and Ryan's relationship.
Blake posted her own sweet message on Instagram to commemorate the night.
If you missed out on the heartfelt photo (or were too unstable to stomach it), check it out below.
Ryan, Blake likes you a whole lot. Do you have any friends who'd want to be set up with Taylor? Or me?
Let us know. Thanks!
Citations: Taylor Swift Is 'Drowning in Tears' Over Blake Lively's Birthday Message to Ryan Reynolds (US Weekly)