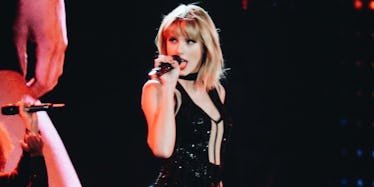 Taylor Swift Fans Have A Theory About What Her Latest Fashion Trend Really Means
Twitter
Diehard Taylor Swift fans looking for any reason to believe the star is working on new music just might be in for a treat.
Speculation surrounding T. Swift working on new music started after the 26-year-old showed up at Gigi Hadid's fashion show with Tommy Hilfiger in September. Gigi spoke to reporters hinting that Swift was working on new music.
After that, fans began anticipating Taylor's next music release, but that day never came. Finally, after a bit of brainstorming, fans came up with the idea that she could be dropping new music on October 23.
Why? Well, that theory was simply supported by the fact that if you add up each single number in the date 10/23/16, you're left with 13. Everyone knows that Taylor Swift's favorite number is 13... BUT NOPE.
That theory was clearly wrong. Now, fans are hoping that Taylor Swift's latest stunt could be signifying that she really is working on new music and is planning to release it soon.
The new theory is based on the fact that T. Swift wore a choker during her only concert of 2016. Swift performed at the Austin Grand Prix on October 22 sporting a choker on stage. This is something she's NEVER done before.
Behold Taylor Swift's ~mysterious~ choker.
Fans speculated that she could be on the brink of welcoming a new "era" following the "1989" album era since she typically changes up her fashion before releasing new content to the world.
Twitter user SwiftsJai explained,
She usually changes her fashion every time she releases her music, and she's never worn [a choker] before. Every album means a new Taylor Swift 'era,' and the 1989 era has just finished and a new one is hopefully about to start!
Look, you can't blame diehard T. Swift fans for eagerly awaiting new music from the Grammy award winner.
Not only has it been TOO LONG since Swift has dropped some new tunes, but she's done NOTHING but tease the world.
Instagram post after Instagram post, hint after hint... yet no music surfaces.
Not to mention, the people just want to hear what Swift has to say following all of the drama that's transpired over the year, including her beef with Kim and Kanye as well as her breakups with both Calvin Harris and Tom Hiddleston.
Here's to hoping that choker means Swift season is quickly approaching!
*Fingers crossed.*
Citations: Taylor Swift Fans Find Meaning Behind Concert Choker (Teen Vogue)