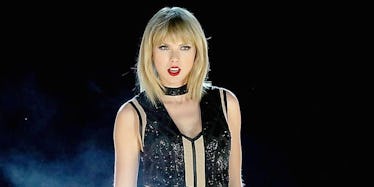 Will Taylor Swift Be At The 2017 Billboard Music Awards? Here's What We Know
Getty Images
Taylor Swift is back in the news after a long hiatus. The singer has been silent for basically the entirety of 2017, prompting fans to believe she's working on a new album, among other ~secrets~.
One of those secrets was spilled when news broke that Taylor Swift is reportedly dating British actor Joe Alwyn. Oops.
Swift has apparently been living in North London for a bit and has been wearing wigs when out in public in order to help keep the relationship a secret, according to reports.
But the news is out now and they've apparently been dating since November.
With the Billboard Music Awards coming up this Sunday, May 21, fans are wondering if Swift is going to show up. And now, they're probably wondering if she's going to show up with her new boyfriend — she did go to the 2015 Billboard Music Awards with Calvin Harris, after all.
But I really doubt she's going to make a public appearance with Alwyn this Sunday -- not when she most likely has new music dropping soon. If she were going to the Billboard Music Awards, promoting/dropping her new music would be her focus, not her boyfriend.
The last piece of new music Swift released was her duet with Zayn Malik on the Fifty Shades Darker track "I Don't Wanna Live Forever" in January.
The music video for the song is the last thing she tweeted, along with a behind-the-scenes video.
But Swift's been really active on Instagram, always hopping onto the app when someone from her infamous squad releases new music. She posted for HAIM, Lorde and Ed Sheeran recently.
The last time Swift performed was at the 2017 DIRECTV NOW Super Saturday Night Concert on Feb. 4, 2017 in Houston, Texas.
Swift used to release one album every two years ever since her first album came out in 2006, so this music hiatus of over two years (1989 came out in October 2014) is unlike her.
She hasn't stopped producing music in the meantime, however. She helped write (and did a little singing on) Calvin Harris' summer jam "This Is What You Came For" featuring Rihanna, and she recently helped create Little Big Town's "Better Man." And, obviously, she most recently released "I Don't Want To Live Forever."
According to TIME, Ed Sheeran thinks Swift is prepping to release her next album around Christmas 2017. He said to BBC,
Taylor [Swift] isn't going to be releasing until probably the end of this year — Christmas is the smartest time to release because that's when everyone buys records.
So, I really doubt Swift is going to be at the BBMAs. And I doubt she would draw unnecessary attention to herself — and now, her relationship — by just attending the show.
Of course, it's always possible she could show up as a surprise presenter, but who knows. Only time will tell if she shows up.
You can watch the Billboard Music Awards on Sunday, May 21, at 8 p.m. on ABC.
Citations: Here Are All the Hints We Have About Taylor Swift's Long-Awaited Next Album (Time)