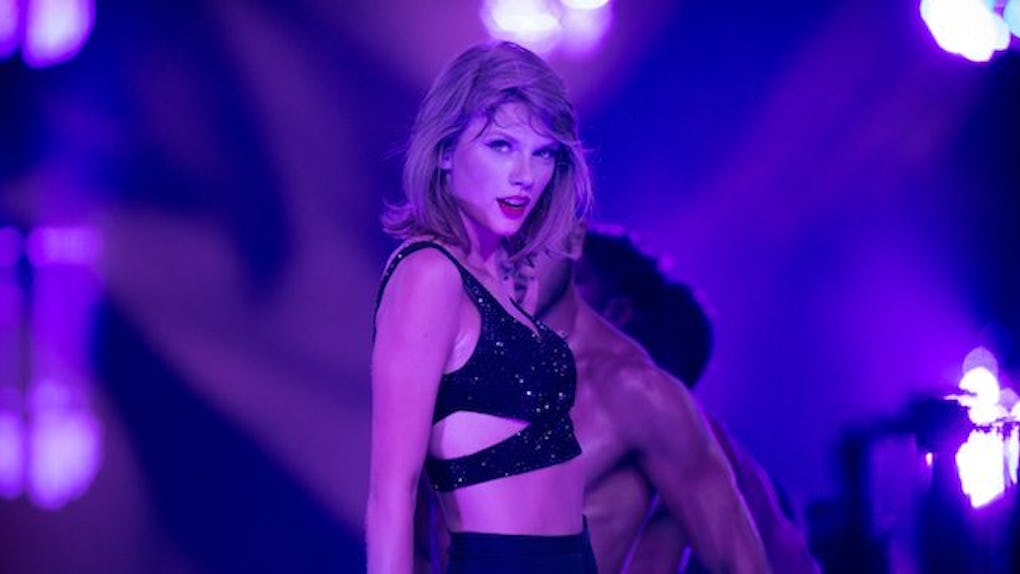 Christopher Polk/Getty Images for TAS
Taylor Swift Beats Calvin Harris At 2017 VMAs, Thanks To "I Don't Wanna Live Forever"
Taylor Swift isn't exactly known for being forgiving when it comes to a grudge. (You might even say she's got a *cough* Reputation *cough*.) So it's probably extra delicious for Taylor Swift beat Calvin Harris at the 2017 VMAs for Best Collaboration on Aug. 27, getting one over on her ex-boyfriend.
Taylor won for her collaboration with former One Direction-er Zayn Malik for the song "I Don't Wanna Live Forever" on the Fifty Shades Darker soundtrack.
Calvin was nominated for "Feels" with Pharrell Williams, Katy Perry, and Big Sean. Also nominated were The Chainsmokers and Halsey for "Closer, "DJ Khaled, Rhianna, and Bryson Tiller for "Wild Thoughts," D.R.A.M and Lil Yachty for "Broccoli," and Charlie Puth and Selena Gomez for "We Don't Talk Anymore."
Taylor didn't speak to accept the award, but she didn't need to.
The history (and drama) between all the contenders kind of speaks for itself. Not only did Taylor beat her ex-boyfriend, but also her ex-bestie Katy Perry, who was featured on "Feels." The infamous Katy-Taylor Feud is bound to get a little extra oomph now, in this, its fifth year. Is it wrong to be a little excited? I am here for all the drama.
Get it, Tay.
Taylor and Calvin have been at major odds since their 2016 breakup. Though it was civil, and even heartbreakingly respectful at first, it quickly went sour. Taylor revealed that she had helped write Calvin's hit "This Is What You Came For" despite supposedly not wanting credit. Calvin lashed out at her for the revelation, and a Twitter rant ensued.
But in a recent interview with British GQ, Calvin essentially apologized, saying he "snapped."
He said,
It was completely the wrong instinct. I was protecting what I see as my one talent in the world being belittled. It felt like things were piling on top of me and that was when I snapped.
So, after everything, it's a little awkward to have one of them beat out the other.
So will this escalate everything? Who knows? But Taylor's got a nice shiny trophy to take home to console her about the rest of the dramz.