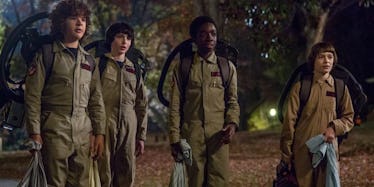 Video Of Mike From 'Stranger Things' At The Emmys Proves The Upside Down Is Everywhere
Jackson Lee Davis/Netflix
The 69th Annual Emmys are taking over TV... and the Stranger Things cast is (once again) taking over our hearts. The actor who plays Mike, Finn Wolfhard, posted a video of his first Emmys on social media. Unsurprisingly, it has fans wondering if real-life Mike is heading to an awards show or back down into the Upside Down.
One snap captures the 14-year-old star in a Prada tux giving a thumbs up in a limo while on his way to the big event. "Time for the Emmys," the post read. Wolfhard looks a bit shocked in the photo (perhaps he was envisioning some Upside Down drama on the way there?).
Another post featured the lengthy caption, "On the way to the Emmys! No hands can you believe this! JK! PRANKED! That's a function already!" The jokester — looking dapper — definitely is having a good time, and let's be honest: Who can blame him? At 14 most of us were studying earth science and prepping for high school, so repping one of TV's hottest shows is certainly an unusual take on your teenage years.
When the young crew hit the red carpet, they naturally they stole the show with the presenters on E! and people nationwide who were tuning in. They all announced the designers they were wearing, though some had better prepared answers than others.
But Mike is not the only one fans are excited about. Earlier this summer, Millie Bobby Brown, who plays Eleven, spoke with the New York Times about her first Emmys nomination for Stranger Things. When asked her reaction to her nomination for supporting actress in a drama, she said,
I'm so happy for the show. The show completely deserves it. The show is 10 times more amazing than my nominations.
She also commented on her relationship with the cast, and it'll definitely make you swoon. The 13-year-old said,
I'm home-schooled, but being on set with the boys is like a school in itself. We argue, we're like brothers and sister. We laugh. It's a bunch of fun kids.
 What has everyone in a tizzy, however, is the super secretive second season — one of the main topics of conversation on the CBS Facebook Live of the red carpet. Brown's reaction to what's happening next? She said,
It's 10 times better than the last season. You guys are going to love it. It's everything the fans want, and what they're not expecting.
So, if you weren't terribly excited before, you're certainly ready to binge watch now. New episodes are on their way on Oct. 27, just in time for Halloween.
Fans have become so obsessed over the show that a pop-up bar inspired by the dystopian Upside Down realm came to life in Chicago. The space, which opened Aug. 18, comes complete with multi-colored Christmas lights, Ouija board letters, and all-things Eggo waffles (which would make Eleven proud).
The offerings, however, are not entirely suitable for the young cast that stars in the show. Those who are 21 and over can stop by if they are in need of a taste of "Eleven's Eggos," the slushie of dystopian dreams with bourbon and hints of lemon, cranberry, orange, and maple syrup. "She's Our Friend And She's Crazy" mixes tequila, amaretto, lemon, and strawberry. Or maybe you're more inclined to order "Coffee And Contemplation," a scotch-coffee-liquour combo. If you're in need of an Upside Down fix at the bar, you're going to want to hurry up; the space closes at the end of September.
Here's to Stranger Things and its next chapter.
Check out the entire Gen Why series and other videos on Facebook and the Bustle app across Apple TV, Roku, and Amazon Fire TV.