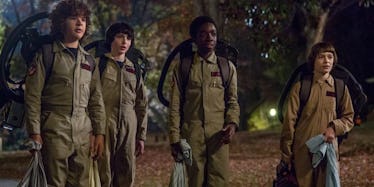 This 'Stranger Things' Pop-Up Bar Is A Must-Visit Before Season 2 Kicks Off
Jackson Lee Davis/Netflix
Netflix struck gold with its sci-fi/horror original series Stranger Things. Fans were immediately captivated by the '80s mystery, the fresh take on sci-fi, and the adorable cast. Though it goes without saying, Season 2's October premiere cannot come fast enough. To satiate the yearning until the show returns, a Stranger Things pop-up bar will keep fans preoccupied until the fall.
Welcome to "The Upside Down," a Chicago hotspot cleverly named after the series' dystopian realm. The pop-up bar, opening Aug. 18, comes complete with multi-colored Christmas lights, Ouija board letters, and all-things Eggo waffles (which will make Eleven proud), according to Delish. It takes the fantasy theme to another level with its decor and menu, making fans feel as though they're actually on set. Chicago's newest hit attraction is located in Logan Square at 2367 N. Milwaukee Ave., so you can stop by if you're in need of a taste of "Eleven's Eggos," the slushie of dystopian dreams with bourbon and hints of lemon, cranberry, orange, and maple syrup.
Perhaps you're in the mood for a little something else. "She's Our Friend And She's Crazy" mixes tequila, amaretto, lemon, and strawberry. Or maybe you're more inclined to order "Coffee And Contemplation," a scotch-coffee-liquour combo that is probably a good pick after one of the slushies on the menu.
If you're having a hard time deciding, take a breather and look over at the Hawkins Middle School A.V. projector and take in some of your favorite moments from the show's first season.
While sipping a drink with friends, you can discuss the fan theories you've been tossing around since the first season ended.
What is the deal with the Upside Down? Is it a dark and twisted as we think it is? What is going to happen with Eleven now that she's back? So many questions.
The Upside Down (the bar, not the realm) will remain open until the end of September. Then you'll only have about a month to go until the Oct. 27 premiere.
No judgement if in the meantime, you're watching the teaser more times than you can count.