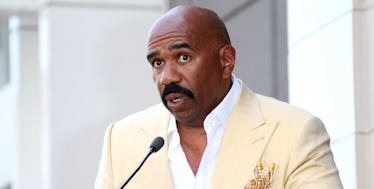 Steve Harvey Just Gave The Greatest Advice For How We All Should Live Our 20s
REX/Shutterstock
Steve Harvey has been through it all.
He's had ups, and he's had downs. He's made millions of people laugh with jokes, and he's been the butt of the joke. He's lived in lavish homes, and he's been homeless.
He's hugely successful, but he's definitely had his fair share of failures, drastic ones even.
We know this because during his various television appearance -- whether he's hosting "Family Feud" or "The Steve Harvey Show" -- the 59-year-old comedian has been known to stop and talk about his personal life and overcoming obstacles.
For some people, the advice Steve gives might sound cheesy. But from Steve himself? No, it always sounds real from him because he's lived through the low points.
So, it was no surprise on Saturday when Harvey posted a video of him sitting down, smoking a cigar and giving a piece of advice about the biggest mistake most people make when they are young.
He said,
The average person blows all of their 20s. Then when you find out that life ain't waiting on you, now you 30. Now guess what happens to mostly all of us, including myself. I spent all of my 30s trying to do the things that I should've been doing in my 20s. So now, my life is behind.
Harvey's six-minute monologue is essentially a warning to all young people: "Don't do what I did," he said.
He goes on to discuss the temptation to enjoy freedom and fun and be reckless, a temptation that does indeed feel strongest after getting out of college.
He continued,
In dedicating yourself to that freedom and that fun, man, you lock yourself out of the American Dream. And it happens to 98 percent of the people. And the reason I know it is because it happened to me. And if I can tell anybody, man, if I could do it again, I would've changed the way I lived my 20s.
There's no simpler way to put it. This is something every Millennial should listen to.
Check out the video below.
This is my suggestion to ALL young people...if you could just hear me clearly...don't do what I did.https://t.co/TX2uYLgNgg — Steve Harvey (@IAmSteveHarvey) July 30, 2016