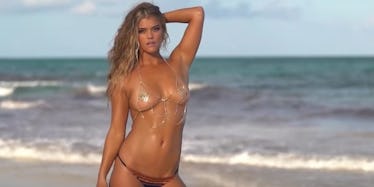 Here's How To Date A Sports Illustrated Model, According To Nina Agdal
YouTube
Sports Illustrated model Nina Agdal is the entire package.
She's smart, talented and obviously super gorgeous. I honestly can't look at her face for more than two seconds without passing out.
I'M SERIOUS. Someone grab me some water... I'm starting to feel a little weak in the knees.
Elite Daily was able to chat with the 24-year-old superstar at the Sports Illustrated Launch Party on February 16.
Nina Agdal, who teamed up with Edge Shave Gel, talked with us about her tips for guys to get their "edge" in dating.
So, boys, if you have dreams of one day dating a Sports Illustrated model, I suggest you whip out a notepad and take a seat.
If you want to win Nina's heart, then first and foremost you're gonna need to shave that scruff off yo' face.
When asked if she prefers guys with facial hair or not, Nina admitted,
I like clean shaven… I think it comes across cleaner. Obviously I don't like red bumps, but that's why Edge is so great, too, because it has this feature where you don't get red bumps after shaving and everyone knows how annoying that is.
Preach, sister. If I don't shave with shaving cream, it's game over for my kneecaps.
Nina also revealed the three qualities she looks for in a significant other. She told us,
I look for humor, I look for spontaneity and I look for… I guess someone who is loving... or thoughtful.
YOU HEAR THAT, FELLAS? Sports Illustrated models like gentlemen. There's no room for bad boys here.
Nina also said she believes guys should pay on the first date. She explained,
I think the first date yes, I think it's a very nice thing to do.
When asked about her ideal date with a man, Nina didn't hold back. She shared,
I think a nice dinner, honestly, a nice candlelit dinner with some nice music, live music maybe, like a guitar player or something I love.
Sounds like a nice night to me!
Nina Agdal was joined by Kate Upton, Chrissy Teigen and several other models at the Sports Illustrated Launch Party.
Upton, who is the Sports Illustrated Swimsuit issue cover girl for 2017, showed off the latest issue as she strutted her stuff down the red carpet.
Congrats on a succesful evening, ladies! Thanks for reminding me I really need to go shopping for new shoes and new clothes and a new face.
Now BRB. Gonna go hit up the gym and try to lose half my body weight. Bye!