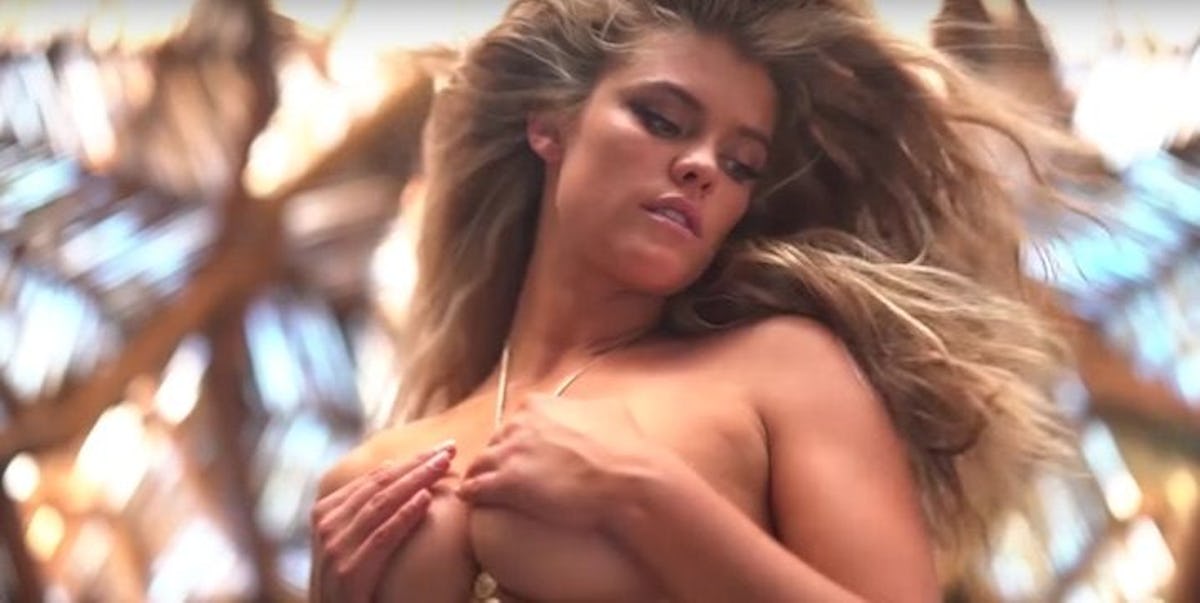 Leonardo DiCaprio's GF Nina Agdal Holds Bare Boobs In Sports Illustrated Video
YouTube
On Wednesday, January 25, the good lord smiled down upon us and delivered quite possibly the greatest video known to man.
You're already familiar with Leonardo DiCaprio's supermodel girlfriend, Nina Agdal, but I promise you've never seen her like this.
Sure, the 24-year-old Danish model absolutely crushed her appearance in a Love Advent video earlier this month...
... but that's nothing compared to how Leo's gf sizzled in her latest photo shoot for the 2017 Sports Illustrated Swimsuit issue.
As you can see, Nina Agdal held her bare boobs during the shoot and left pretty much nothing to the imagination.
To caption the above video, which was posted to the Sports Illustrated Swimsuit Instagram page, SI wrote,
It's official: @ninaagdal is back for #SISwim 2017! Start swiping on @tinder now, and you could win a trip to #GetYourEdge and meet Nina at VIBES in Houston.
*opens Tinder and breaks fingers by swiping too quickly*
I know Leonardo DiCaprio is a famous actor and all, but how did this dude get so lucky? Like, Nina Agdal wasn't born on Earth -- she was hand-delivered by the gods from a far-off universe.
Seriously, I don't think there's anyone else on this planet who comes as close to perfection as Agdal does. Sorry, Emily Ratajkowski.
If you're unaware, the story behind how Leo DiCaprio and Nina Agdal's relationship came to light is actually pretty hilarious.
Apparently, the 24-year-old model's grandma spilled the beans in an interview with the Daily Mail.
Speaking on her granddaughter's love life, grandmama Agdal said,
I can tell you that it is six years since they first met, and now the relationship apparently developed. We hope that he behaves towards her; otherwise, he will get me to deal with.
If I've said it once, I've said it a thousand times: Do not mess with the grandmas of the world.
Agdal, being the awesome sport she is, didn't appear to have been bothered one bit by her grandma's words. She said,
It's kind of hysterical, right? First of all, my grandma is like 75 years old. She's in Denmark. And she's on Twitter, she's on Instagram, she's on Facebook. She's really into the internet. And I've told her, 'It's fine to follow all my accounts, but only if you're okay with what I do! If you're okay with my pictures, and you don't make negative comments about my choices, then I'm fine with it.'
The season of giving may be over, but here's one more present for you this Wednesday:
Yes, that is a look at the other models set to appear in the 2017 Sports Illustrated Swimsuit issue.
You're welcome.
Citations: NINA AGDAL BUSTS OUT OF BIKINI In SI Swimsuit Return (TMZ)